Field Music 'Commontime': Lyrics, Streaming and Download Options for Latest LP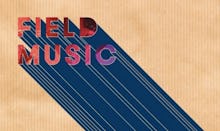 Mic/Facebook
British indie act Field Music adds its new album to the spate of releases Friday, and it's is a full-bodied victory, full of ambling wind instrument solos, tinkering bells, piano riffs and strong harmonizing. The art rock outfit, led by brothers David and Peter Brewis, has been churning out content for more than a decade, having released its first studio album, the eponymous Field Music, in 2005. Commontime follows 2015's soundtrack album Music for Drifters and 2012's Plumb. The new LP is available for streaming on Spotify and iTunes. 
Read more:
"Maybe we turned down the inhibitions for this record and all the weird rules that we have were relaxed a bit," David Brewis said in an interview with the Quietus published Thursday, adding that they wanted to experiment on its latest LP, and the aesthetic was influenced in part by the fact that both musicians had been listening to a lot of pop. 
"There was definitely a sense of wanting to have some fun," David told Quietus. "We both look after our kids and having three days per week in the studio was our time off and fun time. We did more singing together and wanted more spontaneity. In the past we may have rejected an idea for being too obvious; this time we just went with it — and played that chorus again and played that riff again."
The lyrics: At times on Commontime, the tracks' structures can be a bit confusing. They're ambling or oddly ordered, and there's a substantial, operatic breakdown midway through the album on "Trouble At the Lights" that escalates into shrieking electric guitars before immediately jumping into the cut "They Want You to Remember," which seems drastically soft by comparison. Yet the sharpness of those transitions and the drastic change in ambiance of the album is also a successful demonstration of what makes Field Music unique in their experimentation. Commontime gets so much right it's easy to overlook the moments of discord (or brilliance, depending on who you ask).
"Noisy Days Are Over," for example, not only opens with a bang, but Field Music proves it can take indie pop to powerful places, bolstered by clear, catchy melodies and swelling harmonies. "It's time to get smart," the track's lyrics sound off, and later continue, "So bring the timetable/ And your house keys/ And don't forget your name/ Or where you live."
Similarly, "It's a Good Thing" is a funk-influenced ballad that proves the band is not only willing and capable of experimentation, but thrive on it. On the track, the brothers remind us that coupling is crucial, singing, "It's a good thing/ to give yourself away/ It's a good thing/ to give yourself away."
And "Disappointed," an obvious standout of the album, is an earworm of a track that proves Field Music is nothing if not earnest and self-aware. "If you want this to be more/ Then you've got to let me know/ But if you want me to be right every time/ You're gonna be disappointed."
Pitchfork reviewed the album and awarded it 7.8 out of 10. 
"Even though it is generously filled with orchestral flourishes and a kaleidoscope of synths and nimble guitar lines, Commontime rarely feels overstuffed or, as was often the case on previous Field Music releases, busy to the point of sounding incoherent," writes Pitchfork's T. Cole Rachel. "Instead, the album balances the Brewis brothers' predilection for unusual song structures and unconventional instrumentation with a decidedly grown up narrative." 
Commontime track list:
1. "The Noisy Days Are Over"
2. "Disappointed"
3. "But Not for You"
4. "I'm Glad"
5. "Don't You Want to Know What's Wrong?"
6. "How Should I Know If You've Changed?"
7. "Trouble at the Lights"
8. "They Want You to Remember"
9. "It's a Good Thing"
10. "The Morning Is Waiting"
12. "That's Close Enough for Now"
13. "Same Name"
14. "Stay Awake"