Meet the Woman Who Crashed Her Own Funeral to Bust Her Husband for Attempted Murder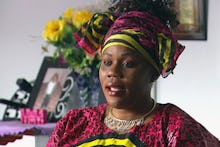 Sometimes life really is stranger than fiction and nobody proved that this week more than Noela Rukundo.
The Burundi-born woman living in Melbourne, Australia, showed up at her own funeral to face her husband who thought he has successfully paid a group of gunmen to kill her.
"Surprise! I'm still alive!" said Rukundo, the BBC reported as she stormed out of a waiting car near her home where the funeral was taking place. "I felt like somebody who had risen again," she said.
"Is it my eyes? Is it a ghost?'" her husband, the Congo-born Balenga Kalala said upon seeing his wife. "I'm sorry for everything." But sorry wasn't enough. 
In the year since the funeral surprise, Kalala pleaded guilty to trying to have his wife killed and was sentenced to nine years in prison.
Wait, what? The full story of intrigue, which Rukundo recounted to the BBC, began more than a year ago when she left Australia for her native Burundi to attend the funeral of her stepmother. Kalala and the couple's eight children stayed behind.
While resting in her hotel room in the capital of Bujumbura, Rukundo received a curious phone call from her husband. When Rukundo suggested she might go to sleep early, Kalala protested, saying that it must be very hot in Burundi and that she should relax outside. "He told me to go outside for fresh air," she said. 
Rukundo took his advice only to be abducted by a group of armed men. "I opened the gate and I saw a man coming towards me. Then he pointed the gun on me," she said, adding that the man warned her that, "If you start screaming, I will shoot you. They're going to catch me, but you? You will already be dead."
Rukundo was pushed into a car with other gunmen and taken to an undisclosed location. Inside a building, she was tied to a chair, as gang members circled, deciding what to do. In the end the mobsters decided to take pity.
"We're not going to kill you. We don't kill women and children," he said. Before freeing her, he also gave Rukundo a parting message. "You people get a chance to go overseas for a better life. But the money you are earning, the money the government gives to you, you use it for killing each other!" The gang leader even gave Rukundo some incriminating evidence to use against Kalala back in Australia.
For his part as an "aggrieved husband," Kalala told the local community in Melbourne that his wife had died in an "accident." Now free, she headed back home and, with the help of a pastor, arranged for the dramatic confrontation.
Kalala reportedly planned the hit because he was jealous and thought his wife was planning to leave him, something she vigorously denied. "I knew he was a violent man," she said. "But I didn't believe he can kill me. I loved this man with all my heart!"