"Amazing" Lyrics and Meaning: Foxes Is a Sucker For Love in New Dance Song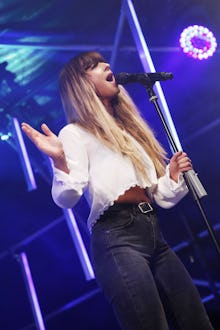 Tristan Fewings/Getty Images
British singer Foxes' new bubbly, dance-pop song "Amazing," the third single released off her new album All I Need, is all about about wearing your heart on your sleeve and being a sucker for love. Despite its tumultuous meaning, it'll make you want to have an impromptu solo dance party, hairbrush in hand, in your bedroom.
"'When I look at you, the drums all start beating,' Foxes sings on 'Amazing,' just before she loses control of her wild heart and a swirl of strings, background voices and handclaps carry her skyward," Rolling Stone's Joe Levy wrote of the bright dance track off Foxes' second EP, adding that the song is a strong reflection of the album's "unabashedly hungry and hurt songs designed for the dance floor and radio."
Read more:
"See, I got a wild heart and I can't control it It keeps on letting me down," Foxes sings in the bridge over heavy drums that sound like a racing heart. She co-wrote the heart-on-sleeve song with songwriter James Newman. 
The full lyrics for "Amazing" are available on Genius. The full album is available to stream on Spotify and download on iTunes for $9.99.
Foxes, 26, wrote "Body Talk," the new album's first single, while going through a rough time, she told Independent in a January interview. Rather than writing a song about sulking and eating a tub of ice cream to express herself, she wrote about sex. 
"I was a wreck and I wanted to cry and drink alcohol," she said. "I was really distraught and some friends put me on a train to Wales to do this writing session with the songwriter and producer Jim Eliot and Jim could see I was a bit of a mess. I said to him I can't even speak I feel like if I do I might start to cry, so I just need to let my body talk and so for the next 10 minutes I sat writing this song that made light of the situation because that was the song I needed at the time."