What Is "Better Love" About? Foxes' Bouncy Heartbreaking Single off 'All I Need'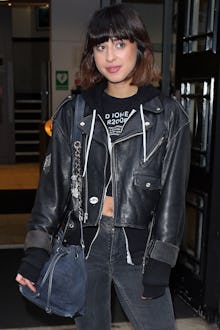 Neil Mockford/Alex Huckle/Getty Images
British songstress Foxes released her newest album, All I Need, on Friday, giving fans a follow-up to her debut album, 2014's Glorious. The second single off All I Need, "Better Love," is a peppy, uptempo song about a doomed relationship that is likely to get play on dance floors.
Foxes released an official music video for "Better Love" back in September. The song, which features Bastille's Dan Smith, was the second single off of All I Need. 
The song opens with Foxes crooning, "Show me love/ Better love" in falsetto, before launching into a first verse that pairs a bouncy beat with thematically dark lyrics. "I cried myself to sleep again ... And here we are, but we've learned nothing," Foxes sings, launching a narrative about a rocky relationship between lovers who can't quite give up: "These feet of mine/ Won't let me march away."
A crowd of voices joins in for key lines in the chorus, which laments a relationship gone wrong: "But I always thought that we could have a better love ... I forget that all I want is a better love."
Foxes said in a January interview with the Independent that her latest album is indeed about a breakup, saying, "This album feels so far up to where I am, so much of it is about coming out of heartbreak and starting again," and "Better Love," is about the beginning of that heartbreak, she told the paper. The lyrics describe the pain of knowing that a relationship can't last yet not being ready to leave. "I do my best to leave this pain/ But here we are and we've learned nothing," Foxes sings in the second verse.
With a dance track like "Better Love," Foxes is showing that she can tug at heartstrings and get people moving at the club all in one go. Full lyrics are available on Genius.