In Which a Flying Dildo Brings a Press Conference to a Screeching Halt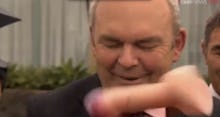 When in doubt, whip it at the face of a politician. 
At a press conference on Thursday, protester Josie Butler made sure she got her point across to New Zealand's Economic Development Minister Steven Joyce. And in doing so, Butler did more than throw caution to the wind — she threw a big ol' dildo. 
According to the New York Post, Joyce was speaking on the Trans-Pacific Partnership agreement intended to strengthen economic relationships among the 12 countries involved in the deal. When Joyce answered a question from a reporter touting the benefits of the agreement, Butler catapulted the dildo, shouting, "That's for raping our sovereignty!" 
The sex toy hit Joyce squarely in the mouth before falling to the ground.
TVNZ reported that police immediately removed Butler from the scene. 
When a reporter asked about the incident, Joyce was surprisingly relaxed. "Oh, it's fine. It was a bit of a surprise, but we thought it was a little bit humorous at the end of it all."
Lately, dildos have been on the rise as tools of political protest. In December, Slack's senior editor Matt Haughney took a stand on gun control when he edited photos of Republicans holding weapons and swapped their firearms for dildos. And in January, the Oregon militiamen who took over a federal building in Oregon got a literal "screw you" delivered to them in a shipment of dozens of dildos, lube and glitter. They weren't as tickled by the joke.
Joyce, however, accepted the inevitable viral nature of the incident.
He told a TVNZ reporter, "[There are] new experiences in politics every day, it's the privilege of serving."