Inside Skirt Club, a Group for Women Who Date Men and Have Sex With Women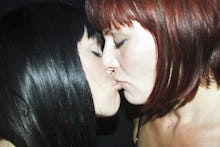 "Oh, my God, would you look at those tits," the woman next to me said. We were sitting on a couch and watching a burlesque dancer in a green bedazzled thong gyrate on the floor, while a bunch of well-dressed women in short black skirts chugged fruity cocktails. When the dancer took her bra off, the women clapped politely, throwing in a few perfunctory hoots and catcalls. 
"I'm not gay or anything," the woman said quickly, before I had a chance to respond, "but I can appreciate the female form. And those tits are amazing. Wow."
At any other same-sex bar on a Thursday night in Manhattan, such a "no homo" comment would be either dismissed or met with outrage. Yet at Skirt Club, a girls-only club that recently celebrated its official launch in New York City, the woman's comments were strangely apropos.
A women only club that originally launched in London before expanding to Miami, Skirt Club is a for-ladies-only "play party," according to founder Geneviève LeJeune. It's strictly for bicurious women, many of whom have boyfriends and husbands at home, to have a venue to fool around with each other, no questions asked and no numbers exchanged. It's a one-shot deal for women who want to dabble in Sapphic diversions, who might have fantasized about going down on their college RAs or summer camp counselors but were too frightened of being branded LUGs to follow through.
On Thursday night, at a dimly lit bar called Madame Geneva on the Lower East Side, women with honey-colored highlights and toned shoulders tipped back prosecco flutes and ate sea-salt-brushed dark chocolates, while exchanging tales of their first-time same-sex experiences.
"I think I realized that I was into girls in college, when I was 20," a woman with a mop of black curls and ample cleavage told me.
"For me, it was Orange Is the New Black," a petite Asian woman chimed in.
"Ruby Rose?" the other woman asked.
"No, it was more Piper/Alex," the woman said. "Alex Vause is so sexy. Ruby Rose is way too butch for me."
The idea for a trendy, exclusive all-girl sex party was the brainchild of LeJeune, a 34-year-old bicurious Londoner who had attended a number of underground London sex parties.
LeJeune said she had been put off by the dingy atmospheres of most underground sex parties, which, to hear her tell it, were total sausage fests.
"These events are usually organized by men, and they tended to be missing some finesse or luxury component," LeJeune told me over the phone the week before the event. "They were missing champagne, good music, posh furnishing. There were actually plastic mattresses placed in the corners of rooms." 
Hayley Quinn, a dating "guru" and frequent speaker at Skirt Club parties, told Mic that Skirt Club arose out of the need to create a safe space for bisexual or bicurious women.
"I had spent so many years being bicurious and having no idea what the outlet for that was. I didn't feel comfortable with the lesbian scene and didn't identify in that way," she said. "Skirt Club is saying you can kiss a girl, you can have sex with a woman, and it doesn't change who you are as a person."
Skirt Club is very clearly a product of the rise of sexual fluidity, particularly among women inspired by celebrities like Miley Cyrus and Cara Delevigne and the aforementioned Orange is the New Black. It's never been cooler or more socially acceptable for a (attractive) woman to sexually experiment with another (attractive) woman, and it's also likely never been more common: According to a November study from the Journal of Personality and Social Psychology, the majority of women are sexually aroused by images of both men and women. 
"We're entering a new era of sexual fluidity," LeJeune said. "Media has a lot to do with this too. It piques people's interest. It's now cool to be a bi girl."
That so-called cool factor was on display at the event, where long-limbed women danced with each other and chatted on couches conspiratorially, knees touching. Hostesses in slinky feathered tops passed around "dares," red cards to encourage women to flirt with each other. 
While many of the women were public relations professionals or promoters, some had discovered the event on Tinder, where LeJeune had reached out to bicurious women. Many of the women also had husbands or boyfriends who they claimed had given them a free pass to go out and experiment for the evening. 
Some, like Lisa*, the diminutive Orange is the New Black fan, were married and had arranged an agreement with their husbands that while extramarital heterosexual sex was off the table, same-sex experimentation was A-OK.
"I think, in general, men just find it less threatening," Lisa, who owned a travel agency and had been married to her husband for a year and a half, told me. For her and her husband, the decision to open up the relationship "was not a difficult conversation for us to have."
Angela*, a voluptuous, curly-haired woman who worked as a costume designer for commercials, had a slightly different experience. She told me that she had ended her last relationship after her partner had told her he wasn't OK with her dating him while experimenting with women. "I didn't feel comfortable giving up that part of myself just yet," she told me.
Angela, however, was quick to note that if she were dating a man who wanted to experiment with other men, she probably wouldn't be comfortable with that. "I don't know why that is," she told me. "I think there's something about women that makes us caregivers, so those types of same-sex interactions just come more easily to us. It's just so different from heterosexual sex."
Therein lies the heart of Skirt Club's success and but also its potentially problematic nature. In a culture where it's perfectly acceptable for women to go down on each other, provided they go home to their boyfriends afterwards, where does that leave openly gay or bisexual women — or, for that matter, gay or bisexual men — who might not have the luxury of separating their private sexual desires from their outward identities?
For this reason, LeJeune said Skirt Club has been subject to the "stigma" in the lesbian community surrounding bisexuality, with some openly gay women criticizing bisexuals for being "greedy." "But I can't help the way I feel," she said flatly.
When asked if Skirt Club would ever launch a version for men, LeJeune was somewhat skeptical. 
"Not many men are going to be honest about having same-sex desires," she said. "But in 10 years time, that's not going to be an issue. Having sex is about having sex now. It's not about who with."
"Having sex is about having sex now. It's not about who with."
LeJeune might be right, but only in part. At Skirt Club, I didn't see anyone doing anything approximating sex, though I did see a long-necked woman in stilettos grab another woman and make out with her on a couch. Most of the women in attendance seemed slightly anxious about the prospect of approaching another woman and talking to her, making it far from the Dionysian orgy I had expected; clearly, this was a demographic distinct from the 1970s-era, gold chain-wearing, V-necked swingers' crowd. 
That said, the promise of sex (or at least, some variation thereof) was very much present throughout the evening. There were whispers of who would be attending the "real" Skirt Club party in March, a decidedly less tame version of this gathering that would be held in someone's townhouse. ("I hear it's basically an orgy," Samantha*, a nurse from Kentucky who wore heavy eyeliner, whispered to me excitedly.)
But even if it ultimately is empowering for parties like Skirt Club to exist, where women can drink cocktails and ogle dancers' breasts and make out with strangers without fearing judgment, even some of the women Skirt Club might ostensibly be catering to might not feel comfortable in the space: Members are only granted access after a vetting process, with organizers screening for such factors as age and sexual attractiveness. 
Quinn said that while she is not personally involved in the process, the decision to screen members arose after some of the first parties had a more "open policy." "The people who turned up were so diffuse in terms of attractiveness and age range and profession that it made people uncomfortable and the group didn't get on well together ... So that's why Skirt Club has stuck to its archetype of having a woman who is in touch with her femininity," she said. 
This was made clear at the party itself, as some of the women who made the guest list clearly didn't experience Skirt Club as the bicurious flesh buffet it purported to be. On more than one occasion, I saw one tall, heavier woman sipping a cocktail by herself after being politely rebuffed by another Skirt Club member. Even in spaces like Skirt Club, the benefits of sexual liberation and sex-positivity only extend to those who are actively granted access to them.
Ultimately, however, the fact that a club like Skirt Club exists, where women can explore their sexual desires without necessarily having to label them, can only be a good thing for sexual liberation in general. Samantha, who is in an open marriage with her partner, said that in the past, she's struggled with finding new people on dating apps like Tinder, with many potential partners viewing her marriage as an obstacle.
"Here, everyone's in the same boat, though," she said. "We all date men and sleep with women, and it's not a problem."
*First names have been changed to allow subjects to speak freely on private matters.