Adele "When We Were Young" Single Streaming on Spotify With Precious Baby Adele Cover Art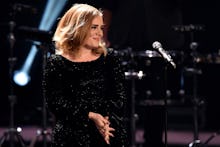 Sascha Steinbach/Getty Images
Adele stunned fans by releasing a live version of the nostalgic ballad "When We Were Young" a day ahead of her anticipated 25 album release, which she did not allow on Spotify, in November. Months later, once every major radio station already played the song ad nauseam, it's an official single and available to stream on Spotify. 
"When We Were Young" is the album's second single after "Hello" simultaneously broke the internet and several download records upon its October release. While it would've been preferable for the new single to have started streaming before the radio played it to death, the artwork is pretty dope: A young, bright-eyed, front-toothless Adele (she may or may not be sporting the same bob she has now).
Read more:
Adele's already performed the song on Sirius XM, as a musical guest on a November episode of Saturday Night Live and at the exclusive Radio City Music Hall (the day she first previewed the song) concert for her NBC special.