What Comes Next: How Network Television Can Adapt the Success of the Live Musical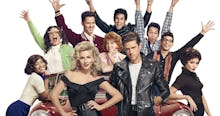 Grease: Live was another live musical ratings smash. It drew 12.2 million viewers and was one of the better-reviewed live shows so far, garnering about the same praise as The Wiz Live. These live musicals have an advantage over streaming services for one reason: They're appointment viewing — the kind of shows that create social buzz.
But what comes next? Well, more musicals of course; Hairspray, the non-live experiment Rocky Horror Picture Show and Fox's adaptation of The Passion are all slated for this year. After the handful of successful productions, it's now a proven formula, and it's time for networks to start applying the live event strategy elsewhere by reworking existing properties and exploring live non-musical events.
The live musical trend began with NBC's production of The Sound of Music Live in 2013. Peter Pan Live and The Wiz Live followed soon after. The productions so far have varied in quality, but they have been popular, leading to more live NBC productions.
Noting the success of its musical productions, the peacock network began to apply it to scripted series. In Season 2, Undateable did a live episode and returned for season three as Undateable Live, a live sitcom. NBC ordered the questionable Law & Order: You The Jury, which will allow viewers to vote on what they think the results should be of a real-life case. This practice of live events isn't new, though — even scripted series have dipped their toes in the waters before.
ER, The West Wing and Will and Grace all did live episodes. 30 Rock did this remarkably during its fifth season and even followed in The West Wing's footsteps by doing a live version for the west coast; the episode had the same plot but with different guest stars and some altered gags. Thinking outside the box of singular episodes, the live event could be adapted across the board.
Imagine the possibilities. Keeping in line with the musical theme, there is an opportunity to bring Broadway shows past and present to a mass audience. Just imagine the success of Hamilton Live or Wicked Live. There are also existing television properties screaming to be updated for the social generation. VH1 Divas Live would make a great yearly TV event that would cause Twitter to explode.
Variety shows have been hit and miss, but Maya Rudolph's showed there is still an audience for them. However, the concept hasn't been revisited — yet. The trend can also be adapted outside of musicals. Think of movies: Live holiday films seem like an untapped market. It's A Wonderful Life Live! is almost too obvious a hit.
The event series could help benefit the reboot phenomenon, with networks hosting live reunion episodes of beloved shows. Similar to reworking Undateable as a live show, NBC's musical drama Smash could come back as a live show — keeping in vein with the musical trend. America's Next Top Model as a live competition show would be insane, and the live sketch comedy market only has Saturday Night Live, with the door open for a competitor.  
As evidenced by the welcome social engagement during the live musicals, the events have become appointment viewing for audience members to interact. They also have the potential to go beyond musicals and give network television the gain it needs over streaming services that increasingly cut into network ratings. Live events are their weapons in the war — now they just have to figure out how to use them.