People Are Tweeting About Trayvon Martin on What Would've Been His 21st Birthday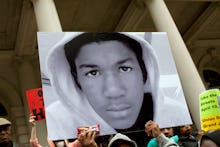 Friday, Feb. 5, would have been the 21st birthday of Trayvon Martin, who was killed in Florida in February 2012 by George Zimmerman. 
On this heavy occasion, many have taken to social media to wish Martin a happy birthday and to connect his death to the evolving conversation on violence against the black community, including the rise of the Black Lives Matter movement.
Instagram users also shared images in memory of Martin. 
Zimmerman was acquitted of all charges in the slaying of Martin, and the federal Justice Department declined to file a suit on its own charges.
Martin's death was among the first, including Eric Garner and Mike Brown, to spur the Black Lives Matter movement, which has fought to change structural racism, police brutality and the criminal justice system in the United States.
Happy birthday, Trayvon.