Susan Sarandon Got Boob-Shamed, So Women Are Tweeting Their Cleavage In Solidarity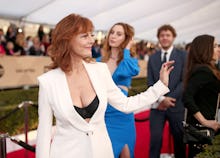 In a classic example of the art of cleavage display, flawless and divine acting diva Susan Sarandon wore a low-cut blazer at the Screen Actors Guild Awards last Sunday.
Many were like, "Yeah! Go Susan!" But some were like, "Bad! Too much boob."
Piers Morgan was part of the latter camp. He tweeted earlier this week that her outfit was "horribly inappropriate" for the show's In Memoriam tribute that she was presenting that night.
There were a number of other tweets in which he said literally the same thing over and over (and over) again, until finally the 69-year-old national treasure decided to send a spicy little tweet of her own on Thursday.
Piers Morgan responded with a picture of himself half-naked, contorting into a Playboy model pose and donning a large gold chain with a Burger King emblem on it (obvi). The image revealed that his cleavage is decidedly inferior to Sarandon's.
And then #CleavageGate erupted, in which a number of other women showed their support for Sarandon by tweeting pics of their own cleavage to her and/or Morgan and/or both. Lots of boobs!
We could go on, but you should probably just check out the #cleavage hashtag if you desire comprehensive coverage (unlike the boobs in these pictures) of this ongoing saga.
While this incident of boob-shaming was particularly public, Morgan is far from the first man to chide a woman for not sufficiently covering up her chestal area to his standards. From teenage girls sent home from school for violating the dress code to Jeopardy contestants, larger-breasted women have been shamed for their wardrobe choices since the dawn of time, regardless of how inappropriate their outfits actually are. While Sarandon's ensemble was indeed provocative, if nothing else #CleavageGate proves how tired women are for being judged for the simple fact that they have breasts. 
For his part, Morgan has remained steadfast in his belief that Sarandon's outfit was inappropriate, tweeting Friday that "Not one cleavage photo I've been sent was taken at a funeral or memorial service."
He has yet to comment on why he thinks his opinion about how adult woman Susan Sarandon should dress should matter to anyone.
h/t Mashable