Meet the Woman Making Sure Plus-Size Brides Get the Wedding Inspiration They Want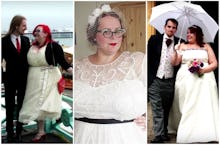 When it comes to inspirational wedding photos, there are a few common tropes. Bride holds flowers on her lap. Bride poses with her dress cascading down a staircase. Bride and groom embrace in the woods. Bride poses in front of a brick wall. Bride poses with her dress billowing in the wind while standing on a cliff. Bride poses with her groom under an arch of flowers. Bride and groom hold hands on the beach. All of the pictures are in pastel tones and look like they've gone through the Nashville Instagram filter. 
There's one more trait these brides usually have in common: They are all thin. 
After scrolling through countless images of slender brides with their handsome grooms, a 35-year-old Scottish blogger named Lolly, who runs Lolly Likes Fatshion, was sick of it. 
"I wanted to see women my size or near to my size (26/28 UK) wearing beautiful dresses that I could actually fit into and buy," Lolly, who goes by first name only on her blog, wrote in a November blog post. "Just like the fashion industry it seems the wedding industry is slow to provide fats with the things they need and want."
But since getting engaged in February 2015, Lolly wasn't seeing anything out there featuring plus-size women or plus-size couples.
"Knowing how hard it has been to find everyday fashion for my size I knew it was not going to be easy to find a wedding dress," Lolly told Mic. "Google plus bride or fat bride and most of the photos that come up are fat jokes. Trying to find actual plus-size brides photos for inspiration was not easy." 
So with the help of her popular Instagram and her blog, she created her own online destination. In November, she posted a series of pictures of plus-size brides and couples on their wedding day, for the sake of brides looking for inspiration. 
And to go along with the blog post, Lolly started a new series: Wedding Wednesday. Think of it like a New York Times Vows column, except it doesn't make you fall into a pit of despair. 
"I have a list of questions that each couple [could] answer, and they share more photos," said Lolly. Once she got rolling, she set a goal to reach 100 couples and proactively reached out to couples via Instagram to get them involved. Now, she's got over 105.
It's not just about plus-size brides: When asked why finding plus-size dresses of quality is hard for the soon-to-be-bride, Lolly admits that it's got a lot to do with the fashion industry as a whole. 
"I think it is the same as the fashion industry," Lolly said. "They don't want to show fat people in their clothes." 
"Even plus brands are reluctant to use non-models in their advertising," she continued. "Unless you are a size 14/16, hourglass-figured 6-foot-tall woman, your plus-size body is not seen as attractive by most major brands. People come in a shapes and sizes, and all have money to spend."
"Unless you are a size 14/16, hourglass-figured 6-foot-tall woman, your plus-size body is not seen as attractive."
Although American women are, on average, a size 14 and in the U.K., a U.K. size 16, a majority of models in ad campaigns, magazines and commercials are nowhere near that size. That extends to the wedding industry, where "bridal bootcamp" workout classes and wedding diets are the norm. Not only are plus-size women left out of most bridal ads; they're often shut out of the high-end dress shopping experience, where sample sizes rein.
"Designer bridal salons carry one sample of each gown and it is clipped to each specific bride's dimensions," Autumn Krause, who works at a bridal salon in Beverly Hills, California, wrote for xoJane. "The sample sizes were 8-12. But keep in mind. That's 8-12 in bridal sizes, which then translates to streetwear sizes of 6-10. That means plus-sized women couldn't try on gowns the same way, if at all."
That leaves many brides at more mass-retailer stores. Luckily, ones like David's Bridal are finally starting to open them with welcome arms. In December, after more than 60 years of business, David's Bridal launched its first-ever ad campaign featuring a plus-size bride. 
"We've always seen a diverse group of women in our stores and felt it was important that we made a change to reflect that in our campaign imagery," Trevor Lunn, the company's senior vice president, told Mic via email. "It wasn't that this season was precisely the right time to feature a size 14 model — it's something we should have been doing all along." 
Sure, it took the bridal industry a long time to catch up, seeing as plus-size models have been featured in swimsuit ads and lingerie campaigns for a few years now. But it's happening, thanks to more women like Lolly and her 105 couples speaking up.
As more and more couples asked to be featured on her blog, Lolly created a 4-minute-long YouTube video titled "105 Plus/Fat Bride/Groom Photos" that shows pictures of plus-size brides on their wedding day. It quickly garnered the internet's attention, getting covered by publications like the Daily Dot and Good Housekeeping. 
"I have had lots of messages from woman saying how this has helped them so see they can be beautiful on their wedding day thanks to seeing other brides so confident and happy in these photos," Lolly said. "They are all inspirations to me and others and I thank them all for sharing."