How Long Does the Super Bowl 2016 Halftime Show Last?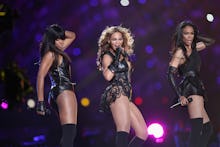 Al Pereira/Getty Images
It will be decidedly difficult to top last year's Super Bowl halftime show, seeing as though the epic showing gifted us Left Shark. Yet if anyone could rival that monumental routine, it's the powerhouse coupling of British rock giants Coldplay and American R&B queen Beyoncé, two of the artists who will perform at this year's event, joined by Bruno Mars. According to the International Business Times, the Super Bowl's halftime breaks can run about 12 to 13 minutes long, which opens the door to a whole lot of theatrics. CBS will broadcast Super Bowl 50 live from Levi's Stadium in Santa Clara, California.
It's likely the Coldplay-Beyoncé performance will include a live rendition of "Hymn For The Weekend," given Bey features prominently on the cut, a track that lives on Coldplay's most recent album, A Head Full of Dreams. The track sparked a bit of controversy after the release of its accompanying music video, a colorful bit of work set in Mumbai, India. Many reacting to the video accused the artists of cultural appropriation. 
No word yet if Coldplay and Beyoncé will let the controversy sway them — but costume choice may give viewers and answer one way or another.
Read more: 
A lot can happen in 12 minutes, and considering the event's huge viewership, the stakes are sky high for Super Bowl halftime stars. Katy Perry's performance last year drew 118.5 million viewers, SB Nation reported, citing Nielsen ratings. 
"Super Bowl performers have come to understand that the imperfections of their live performances will be online forever; they have calculated more and canned more of the music," New York Times reports. "They also learned to play to the big invisible audience behind the camera, not the mere tens of thousands at the game. M.I.A. managed to upstage an entire queenly Madonna extravaganza with one raised middle finger in 2012."
Yet this isn't Beyoncé's first rodeo — the superstar performed during the Super Bowl halftime show back in 2013, and it was an altogether powerful showing. Game on.