Young Thug 'I'm Up' Download: Here's Where to Get Rapper's New Mixtape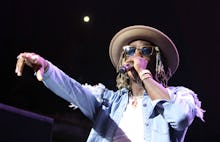 Katie Darby/AP
Atlanta rapper Young Thug dropped his newest mixtape, I'm Up, on Friday, and the nine-track release is available on iTunes and to stream on SoundCloud. Young Thug announced the release Friday by sharing an Instagram of the album artwork, which has more than 19,000 likes as of Friday afternoon.
I'm Up is the latest in a series of mixtapes the rapper has released since his first, 2011's I Came From Nothing. Young Thug is reportedly working on a long-awaited debut album, to be titled Hy!£UN35, reports Music Times.
Read more:
The original, working title for I'm Up was Slime Season 3, a follow-up to previous mixtapes Slime Season and Slime Season 2, but Young Thug announced the name change on Twitter following a heated exchange of tweets with rapper Future, reports Pitchfork.