This Solar Farm in the Desert Will Soon Provide Power for More Than a Million People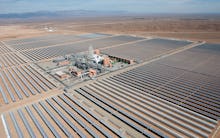 On Thursday, at the foot of the Sahara Desert, the future of solar energy made its grand debut.
That afternoon, Morocco's King Mohammed VI fired up Noor 1, the first section of the country's massive, groundbreaking solar power plant. Expected to cover an area of roughly 6,000 acres by 2018, the solar plant is set to become the biggest in the world once finished. It will eventually provide enough power for about 1.1 million people, according to the Guardian. 
Situated near Ouarzazate, a region famous for its film industry, the plant's first section contains around 800 rows of panels — good for about 500,000 solar mirrors to drink up sunlight. Despite its vastness, Noor 1 will only provide about 160 megawatts of the plant's total 580 megawatt capacity.
"At around 2 p.m., the king will press a button, the parabolic mirrors will start turning, the heat will begin to turn the turbines and the plant will come to life," Maha el-Kadiri, a spokeswoman for Morocco's renewable energy agency, told the Guardian ahead of Thursday's launch.
Morocco intends for about 42% of its total energy supply to come from renewable sources by 2020, and a full third of that will be solar.
"We are not an oil producer," Hakima el-Haite, Morocco's environmental minister, told the Guardian in October. "We import 94% of our energy as fossil fuels from abroad, and that has big consequences for our state budget ... We also used to subsidize fossil fuels which have a heavy cost, so when we heard about the potential of solar energy, we thought, why not?"
As Gizmodo's George Dvorsky put it, "Where better to put these plants than in the desert — areas that feature plenty of sunshine and vast expanses of land that are otherwise useless and inhospitable."
The shiny, pretty panels use mirror technology, which, while pricier than the photovoltaic panels you're probably used to seeing on roofs, are beneficial because they can produce power even after it gets dark.
The Guardian has the rundown on how the mirrors work:
Each parabolic mirror is 12 meters high and focused on a steel pipeline carrying a "heat transfer solution" that is warmed to 393 degrees Celsius as it snakes along the trough before coiling into a heat engine. There, it is mixed with water to create steam that turns energy-generating turbines.
The other two sections, Noor 2 and Noor 3, are expected to open by 2018.
Though the plan has encountered some criticism and suspicion in the past — including dropouts of a few important European partners and a delay of Noor 1's opening due to "agenda concerns" — it appears, at least for now, to be running on (nearly) all cylinders. 
h/t Business Insider