'Full Frontal With Samantha Bee': Premiere Date, Full Preview and How to Watch Online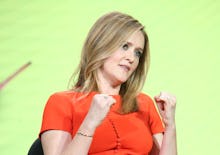 Frederick M. Brown/Getty Images
Comedian Samantha Bee will join the all-male late-night comedy crew with her new television series Full Frontal, which premieres at 10:30 p.m. Eastern on Feb. 8 on TBS. Subscribers to streaming service Sling can also watch her show online. New episodes will air every Monday, the Hollywood Reporter reported. 
In her show and with a heavy emphasis on field reporting, Bee tackles important topics relevant to modern women — and always with satirical flair. "It's still topical, it's still taking place on the stage, there are certain similarities but my voice is completely different. I'm just diving deeper into my opinions about things and my passions, and I'm letting myself explore riskier territory than I have in the past," she told Entertainment Weekly. 
Read more:
Teasers on YouTube show Bee diving into issues such as the overtly sexual depiction of women in comic books and video games, and how female veterans have yet to be handled properly by the U.S. Department of Veterans Affairs. She also traveled to Jordan to meet with Syrian refugees and learn about the complex vetting process, according to Entertainment Weekly. 
"These are things that we're interested in and that resonate with us and we really want to explore them," executive producer Jo Miller told the Hollywood Reporter. "And Sam Bee has the opportunity to speak with authority on them and speak in a way that resonates with the audience, which we've seen in the test shows when we do take on things that are universal experiences that men don't even know about ... the reaction from the female audience is catharsis."
Bee hails from the Daily Show, where she was the longest-serving correspondent, according to Entertainment Weekly.