Canada, Where Were You When Carly Rae Jepsen Needed You?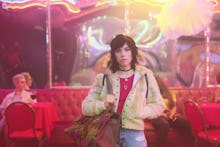 Thanks to the 2016 Juno Awards, the epiphanic lyrics of Carly Rae Jepsen's "When I Needed You" have taken on new meaning.
In the wake of the #OscarsSoWhite criticism, this year's installment of the Juno award show, essentially the Canadian Grammys, has spawned a narrative about its male-dominated nominee list, #JunosSoMale. Its album of the year and artist of the year categories lack any female contenders, and thus far there has only been one female performer announced.
However, in looking at the award show from this wide angle, one overlooks a greater and far more specific travesty — that a deserving Canadian pop album from a Canadian pop artist, Jepsen's Emotion, went without so much as a hat tip.
Canada wasn't willing to say it, so I will: "Run Away With Me" is a triumph. Stunning as a standalone effort and a fantastic album opener to introduce Emotion, it's aided mightily by an arresting sax that acts as a mediator to silence the crowd. It proclaims Jepsen has the floor to spin her tale, and that you, too, may join in the spinning. And while it may not have a Taylor Swift-level YouTube view count to prove it, the song earned prominent spots on several end-of-year lists. 
This track highlights the essential disconnect at play in Emotion's history: Critics adored it, but commercially it's continued to flounder. For all those fans and voters for whom "I Really Like You" was the extent of their exposure to Jepsen's new material, they can't entirely be blamed for seeing her as the same artist they knew before — the "Call Me Maybe" girl, if you will. 
That single was really meant to prompt recall and propel the artist back to a state of industry presence as the queen of the bubble gum single. With the momentum built, her team went on to release follow-up singles that paint a better picture of Jepsen's maturing artistry. As an album prelude, it may have cost them in the long run. The gimmicks of "I Really Like You" are not the standard to which Emotion holds itself.
Supported with smart songwriting that borders on disarming, Emotion is a sublime body of work that poetically makes you feel emotions of surprising range. The A/V Club praised the album as "one of 2015's most interesting, effervescent records." Publications as esteemed as Time singled out "Gimmie Love" and "Warm Blood" as "showing off the mature side [of the artist] she previously only hinted at." The legacy publisher eventually included Jepsen in its "Person of the Year" issue.
Comparably, few speak about Emotion's closing track, "When I Needed You," which seals off the album as a wonderfully intriguing find, stored inside an '80s time capsule. One of the song's (and the album's) finest moments is when it's at its most airy with just Jepsen singing against a punctuated guitar. The track is delicate, but give it an audience and it can bring out the absolute best in them — as it did in this genuine moment at Irving Plaza in New York City during the artist's recent tour.
For an artist whose earlier mega-hit pegged her for one-hit wonder status, to come out with a mature effort that changed perceptions is no small feat. Jepsen took matters into her own hands on Emotion – 200 song prototypes later – but there was only so much she could control. Whether because of loud competition, short-sighted management decisions or any number of other factors, the fact remains: Emotion didn't perform commercially to what its critical acclaim – and, truthfully, its material – suggested it deserved.
If critics are to be believed, Emotion had every right to at the very least be nominated for pop album of the year at the Juno Awards. Although Jepsen said she felt supported by Canada during her journey, the fact that Emotion wasn't represented at all is doubly heartbreaking. It's one thing to not be recognized on an international level (she was overlooked for a Brit award in the category of international female solo artist and at the Grammys). Not being acknowledged locally for her musical contributions is embarrassing and disheartening.
It makes "When I Needed You" a self-fulfilling prophecy: When it really counted, the Canadian artist didn't get the recognition she deserved, and that's difficult to accept. Especially so when you think of the unstoppable success Taylor Swift enjoying with her pop breakout. The Juno Awards gave Swift's 1989 a nomination for best international album in 2015, and it's up for best album at this year's Grammys. For 1989's moments of creative lyrics ("Clean") and production razzle-dazzle ("Style"), the thematic focus sputters when viewed as an album. By contrast, Emotion channels its themes throughout for a cohesive whole, from the sparkling, synth-driven ballad "All That" to the infectious title track, with a bass line reminiscent of the Jacksons' "Shake Your Body (Down to the Ground)."
Why Juno Awards would choose to not recognize the inspirational accomplishments by a clearly deserving local artist is an unexplainable wrong. Jepsen was right all along: If the curators did think of her, she was just a flicker in their collective heads. Jepsen broke the rules with Emotion, and we hope with hunger — despite it all — that she will do so again.