Foxes "Wicked Love" Lyrics and Meaning: 'All I Need' Is an Emotionally Charged LP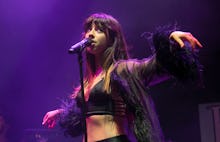 Joel Ryan/Invision/AP/AP
On Friday, British singer-songwriter Louisa Rose Allen, who uses the stage name Foxes, released her second studio album, All I Need. The 26-year-old's follow up to Glorious, her debut album released in 2014, is a whirlwind of a second showing. Allen has gifted fans a true portrait of the artist, and she has infused the LP with emotionally charged and deeply personal epiphanies. Throughout the LP, Allen's private life is on display for all the world, and one track in particular, "Wicked Love" proves that this artist is nothing if not self-aware.
Foxes kicks off the track with "Screaming/ all night/ rip me right from paradise" and "Big words/ small lies/ out to get me every time."
Read more:
"Lost in your heartbeat, body moving on mine," she continues. "Holding the madness, doubt the feelings inside/ Did you know that you're trouble?/ And I know that it ain't right, but I want ya/ And I can't get enough/ Of your wicked, love, wicked love, wicked love, wicked love."
"But it's worse when it's over/ you're no good for me/ This ain't how it ought to be/ But you're like honey/ I get stuck when you get sweet."
Relationships gone wrong make up a major theme on All I Need. Another of the album's standout tracks, for example, is the effervescent "Better Love," in which Allen is fed up with romance and frustrated with getting less than she deserves. She desires something more fulfilling, yet is unable to break free from an imperfect situation. Elsewhere on the album, Allen casts a light on more uplifting narratives. "Amazing" is a bold, lush and energizing pop track that successfully captures the spirit of forgoing inhibitions. 
Allen has spoken on the themes that permeate her most recent release and, in a video posted to Twitter, explained that the writing and recording process for All I Need was an emotional awakening of sorts, which didn't help her come to entirely positive conclusions.
"I started writing like I usually do, just in a diary, about my life and quite personal things," she says in the video. "It kind of just became more and more obvious that what I was writing was quite sad. And it was about a certain person. I think I thought I was happy. I kind of started to realize through the songs I was writing, I don't think I was very happy at the time." 
Foxes fans can stream the album on Spotify or head to iTunes to purchase a copy of the LP. For tour dates and concert tickets, head to the artist's site. 
All I Need's tracklist, deluxe version tracks in bold: 
1. "Rise Up" (Intro)
2. "Better Love"
3. "Body Talk"
4. "Cruel"
5. "If You Leave Me Now"
6. "Amazing"
7. "Devil Side"
8. "Feet Don't Fail Me Now"
9. "Wicked Love"
10. "Scar"
11. "Money"
12. "On My Way"
13. "Shoot Me Down"
14. "Lose My Cool"
15. "All I Need"
16. "Rise Up (Reprise)"