This Haunting Drone Footage of a Syrian City Reveals Just How Devastated the Country Is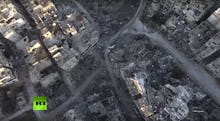 Dramatic drone footage of Homs, formerly an industrial hub of Syria, reveals the extent of the civil war's devastation on the country. 
The footage, shot by filmmaker Alexander Pushin for state-owned Russian media outlet RT, shows the shell of a city, reduced to rubble and deserted — prior to the war, Homs' population was around 1.5 million. 
Homs became strategically significant in the power struggle between President Bashar al-Assad and his armed dissidents, in part because of its geopolitical advantages. 
"Homs has long been of geographic, strategic and economic importance," the BBC explains.
The city sits between Damascus and Aleppo and is close in proximity to Lebanon. It's also situated in prime agricultural lands, bordering the Orontes river valley, which offers the only natural access point to the Mediterranean Sea. For this reason, too, the city has historically remained a trading hub. 
The civil war, which began in 2011, has progressively gotten worse, with roughly half of the country's population, or 7.6 million people, internally displaced and more than 4 million becoming refugees, fleeing to Europe or elsewhere.
Russia has remained a staunch supporter of al-Assad, providing military support to his offensive, and many have branded Pushin's footage as propaganda.
As a result of al-Assad and Russia's incursion on Syria's biggest city, Aleppo, in the past few days, directed at insurgents, tenuous scheduled peace talks fell through. 
"The intense Russian airstrikes mainly targeting opposition groups in Syria are undermining the efforts to find a political solution to the conflict," Jens Stoltenberg, NATO's secretary general, told the BBC.