17 Super Bowl Dip Recipes, from Buffalo to Artichoke, to Make Your Gameday Delicious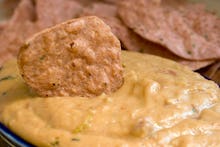 Larry Crowe/AP
Everyone knows that Super Bowl Sunday is about so much more than football: It's also about snacks. No gameday celebration would be complete without a delicious dip to complete the spread. Here are some of our favorite dip recipes to impress your hungry guests and get the most out of your Super Bowl Sunday snackathon.
Read more:
1. Creamy cucumber dill dip
If you want a break from all the fried food you'll inevitably be eating on Super Bowl Sunday, try this dip made from Greek yogurt, cucumber, lemon and dill. Get the whole recipe here.
2. Lasagna skillet dip
This cheesy, saucy, Italian-inspired dip calls for a jar of tomato sauce, ground beef, ricotta, mozzarella and spinach, but it could easily be made vegetarian-friendly by omitting the meat. This dip would go great with a baguette or some plain crackers. Get it here.
3. Bubbly spinach and artichoke dip
What could be more delicious than a cheesy, bubbly, melty dish of this spinach artichoke dish? The recipe recommends serving alongside some pita chips, toast or veggies. Get it here.
4. Simple seven-layer dip
A seven-layer dip, made with beans, cheese, avocados and sour cream, is a classic Super Bowl dish. This version also includes tomatoes and olives. Get the recipe here and serve it with tortilla chips.
5. Blue cheese and chive dip
Not everyone loves the taste of blue cheese, but if you're a fan then this simple dip will go perfectly with celery and Buffalo wings at your festivities. Get the whole recipe here. 
6. Marshmallow dip with funnel cake fries
Craving something sweet instead of savory for your Super Bowl party? This recipe is pretty involved, because you have to make the fries aka the vessel for the dip, but the dip itself is pretty much just warmed up marshmallow fluff. Get it here.
7. Bacon cheeseburger dip
This recipe calls for two different kinds of meat and three kinds of cheese, so it's basically a heart attack in a bowl. But it's probably so, so delicious. Also definitely not Kosher. Get the full recipe here.
8. Mediterranean layered dip
This is a different take on a classic Tex-Mex layered dip, with ingredients like feta, Greek yogurt, hummus, olives and garlic. Get the full recipe here.
9. White pizza dip
This melty, cheesy dip is served in a bread bowl, aka the peak of culinary sophistication. Also, who doesn't like pizza in any form? Get it here.
10. Super Bowl bean dip
If what you're looking for is a traditional, hot and spicy layered bean dip, this is a great recipe for just that. And if you really love the Super Bowl, you'll draw a football using sour cream just like the recipe. Get it here.
11. Spicy feta dip
If you want to bring the heat to your Super Bowl party this year, try this spicy feta and Greek yogurt dip that calls for both chili powder and cayenne pepper. Get the recipe here.
12. Slow cooker Buffalo chicken dip
What's the perfect accompaniment to your Buffalo chicken wings? How about this Buffalo chicken dip? It's made in a slow cooker with shredded chicken, cheddar cheese, blue cheese and hot sauce. Get the recipe here.
13. Loaded baked potato dip
Baked potatoes are another dish that works just as well in a dip as they do in their original form. This dip calls for sour cream, potato, bacon bits, chives and cheddar cheese. Serve it with potato chips, of course. Get the full recipe here.
14. Smoky hot corn dip
Here's another spicy dip for people who like their appetizers with a kick. This recipe calls for cotija cheese, corn, green onions, bacon and cilantro. Get it here.
15. Jalapeño popper dip
Just like the poppers that inspired it, this dip is creamy and spicy on the inside and crunchy on the outside thanks to a breadcrumb topping. Get the recipe here.
16. Cheddar bacon beer dip
If you're already having beer as a beverage on Super Bowl Sunday, why not mix it with some cheese and serve it as a dip? Get the recipe here.
17. Black bean feta dip
This black bean dip calls for optional jalapeño peppers, so you can adjust the spiciness as much or as little as you want. Get the whole recipe here.