In First, France Mandates That Supermarkets Donate Unsold Food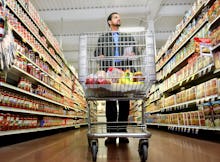 France, a pioneer in the world of gourmet food, made waves in the industry again on Wednesday when the country's senate voted unanimously in favor of a law that will make it a crime for supermarkets to throw away food.
The decision comes after a similarly staunch show of support from the French National Assembly in May.  
The new rule is the culmination of a long campaign by activists in France to address food insecurity among the nation's most vulnerable populations. Charities say that those who are unable to regularly afford food often suffer from deficiencies of fresh produce and meat. 
"There's an absolute urgency — charities are desperate for food,"  Yves Jégo, an assembly center-right deputy, said last year, the Guardian reported. "The most moving part of this law is that it opens us up to others who are suffering."
The law will also impose penalties on supermarkets that try to skirt the law or attempt to deliberately spoil food early and will mandate that those 400 square meters (about 4,305 square feet) or larger sign distribution agreements directly with local charities.
The long-term plan is to normalize the procedure of food donation across the European Union.
The move in France begs the obvious question — would such a program work in the United States? The answer is complicated. The scale of the problem in the U.S. is staggering. In New York City alone, about 1 in 6 residents (and 1 in 4 children) is considered "food insecure." Nationally, according to the Federal Department of Agriculture, 48.1 million people live in homes that are considered food insecure.
"The government in the U.S. encourages food donations, but doesn't make it mandatory," Robert Lee, founder of the New York City nonprofit Rescuing Leftover Cuisine, told Mic. "The whole concept that food waste and food hunger coexist absolutely makes no sense to me."
Nonsensical in theory, but undeniable in reality.
Despite the enormous cost of food waste (both in those who go hungry and the effects it has on the environment) throwing away food is easier and cheaper than the effort required to donate. So while it may seem cruel to let food spoil rather than donating it, letting it spoil is ultimately better for a store's bottom line.
But in the long term, the best solution may be the one France has settled on. "If you took food waste as a global greenhouse gas emitter, it would be third behind China and the US," said Lee, who pointed to the methane gas emitted by decomposing food in landfills. Government efforts and specifically targeted tax incentives, he added, would go a long way but that ultimately, the bigger issue is individual engagement. 
"If we don't care about the issue of food waste and food hunger, the government won't either."