Broke? Here Are Fun Date Night Ideas for Staying in That Aren't "Netflix and Chill"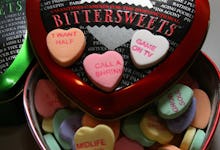 Hillary Rhodes/AP
Being in a relationship means going on dates, and there's plenty of fun ideas out there whether you're in a city or suburban area. However, not everybody has the money — though we all wish we could get a "small loan of a million dollars" — to afford consistent nights out with your significant other. Sometimes, it's better to keep the date night at home and save some cash in the process. 
"Netflix and Chill" is a stay-at-home staple, but if you want to be creative, there are other fun date night ideas at home for you and your partner — and possibly shared with a few other friends.  
Read more:
Cook a meal together: Simple but true. Sometimes, during the weekday work grind, it's hard to find time to sit down and cook a meal together. Whether it's something as standard as pasta or an entirely new recipe, cooking a meal is a great way to relax — with a little bit of patience for the inexperienced. 
Plan a vacation: It might not seem relevant at the time but it's a great way to look forward to the next time you're able to take time off from work. By brainstorming and getting the planning process out of the way now, you can avoid last-minute bookings and cancellations, and focus on getting the perfect vacation for both of your needs. 
For the super adventurous, check out the Frying Pan Tower off the coast of North Carolina. It's about 29 miles off the shore and leaves vacationers surrounded by the ocean, with plenty of time to read and relax without any worries. That said, you should be comfortable living on a oil rig-turned-hotel. 
Play a board game (preferably with other people): Playing a board game with one other person, generally, doesn't work. Bring a few friends or couples, however, and you've got yourself a fun, engaging date night. For the particularly daring and morally questionable, try Cards Against Humanity. 
Start a movie marathon: Have you and your partner always wanted to start a film franchise, like the Lord of the Rings trilogy? A movie marathon would be a relaxing, lazy and cost-free night to spend with your significant other. Worst-case: If you don't feel like watching all the movies in one night, you can always have breakfast in bed — or wherever your TV is — the following day. 
Set up a tasting night with friends: Are you a wine person or is vodka your liquor of choice? Either way, pick your poison and set up a tasting night with friends or other couples. Perhaps they can bring snacks — or other spirits — to add to the mood. In the process, you might be able to find a new brand or liquor that's right up your alley. 
Stream a yule log and pretend you're warm: It's fun to have a nice backdrop while you're enjoying a meal, but it can be distracting to have a TV show or a sporting event in the background. Instead, you can stream a yule log on your TV and keep the focus where it matters most: your partner. And if you want to add another element to the mix, stream a yule log through YouTube with Parks and Recreation's Nick Offerman.  
With these ideas, hopefully you and your significant other can avoid the existential dread of weekly "Netflix and Chill," while saving some money for your next extravagant date outdoors.