Twitter Just Suspended Over 125,000 Accounts Connected to ISIS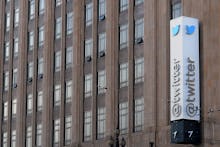 Twitter just showed the digital world that you can't take a stand against terrorism without cracking a few eggs — 125,000 to be exact.
On Friday, the company posted a message on its blog announcing that it has suspended over 125,000 accounts "for threatening or promoting terrorist acts, primarily related to ISIS," stating that it condemns users who would use the platform for these purposes. Additionally, Twitter is increasing the size of their staff responsible for reviewing reports of potential terrorist activity in an effort to address them more efficiently. 
The social media platform also cited its history of cooperation with law enforcement and private organizations such as People Against Violent Extremism and the Institute of Strategic Dialogue to remove terrorist propaganda accounts from Twitter.
The statement continued, "As an open platform for expression, we have always sought to strike a balance between the enforcement of our own Twitter Rules covering prohibited behaviors, the legitimate needs of law enforcement, and the ability of users to share their views freely – including views that some people may disagree with or find offensive."
Twitter has come under storm before for rejecting reports of terrorist activity. In December, New York Times foreign correspondent Rukmini Callimachi — known as an expert on ISIS — asked Twitter to take down an account espousing radical ideologies. Twitter sent her a message saying everything looked a-okay.
Previously, when the platform did act on users' reports, they relied on individual users like Callimachi or a small group of accounts entirely devoted to the digital version of vigilante justice. Still, anti-ISIS hacktivist groups like CtrlSec also have said that Twitter wasn't incredibly responsive to their take-downs. Mic's sources within groups like Anonymous and Ghost Security Group claim though that this changed by the end of the year.
Twitter has been silent on how many account take-downs until now, though hacktivists groups have taken credit for up to 110,000 accounts through their own reporting. 
But take those numbers with a grain of salt — Anonymous and its affiliated factions have made false claims about reporting accounts that Twitter has largely neglected, the Daily Dot reports. 
"As many experts and other companies have noted, there is no "magic algorithm" for identifying terrorist content on the internet, so global online platforms are forced to make challenging judgement calls based on very limited information and guidance," Twitter emphasized in its Friday statement. 
"In spite of these challenges, we will continue to aggressively enforce our Rules in this area, and engage with authorities and other relevant organizations to find solutions to this critical issue and promote powerful counter-speech narratives."
Additional reporting by Jack Smith IV.