The Monkees' 50th Anniversary Tour: Dates, Cities and How to Get Tickets for US Tour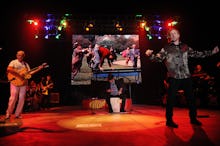 Jeff Daly/AP
50-year-old rock band and TV stars the Monkees are celebrating their half-century anniversary in a big way. Not only are they releasing their first album in almost a decade, Good Times!, but members Micky Dolenz and Peter Tork are also heading out on a five-month tour across the United States kicking off in May. 
The tour will hit Florida, Massachusetts, New York, Pennsylvania, California and a number of other states on the anniversary tour. The band last toured for its 45-year anniversary in 2011. Band member Mike Nesmith played shows with Dolenz and Tork through 2014 but will skip this new tour, according to Rolling Stone. The band's fourth member, Davy Jones, died of a heart attack in 2012.
Read more:
Dolenz told Rolling Stone that the band plans to do a few new songs but mostly stick to the old stuff they know fans love. "I've always felt it was important to give the audience what they want," Dolenz said, "Which is the hits. Peter and I do a lovely acoustic portion of the show, like we're sitting around a campfire. Our vocal blend has become very, very interesting."
Tickets are available through multiple ticket vendors including Vivid Seats and Ticketmaster.
Here are the tour dates and cities, courtesy of Rolling Stone:
May 18 — Fort Myers, Florida at Barbara B. Mann Performing Arts Hall
Correction: Feb. 5, 2016