Where Is Levi's Stadium? How to Get to Super Bowl 2016 Stadium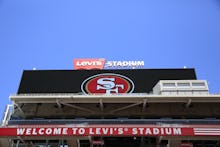 Anadolu Agency/Getty Images
This year, the San Francisco 49ers' stadium will be hosting the Super Bowl. Unfortunately for the 49ers, they weren't able to reach the Super Bowl and won't be participating (sadly, they didn't make the playoffs either, and subsequently fired their head coach). Instead, the Carolina Panthers will take on the Denver Broncos in Super Bowl 50 at Levi's Stadium. But where exactly is Levi's Stadium, and is the venue named after a jeans brand physically prepared to host the big game? 
Read more:
Levi's Stadium is at 4900 Marie P. DeBartolo Way in Santa Clara, California. Where that relates to the city of San Francisco is quite simple: It can be roughly a one-hour drive to the stadium from San Francisco or you can take the Valley Transportation Authority Light Rail service for specific Super Bowl needs. The Caltrain — a commuter rail that goes between San Francisco, Santa Clara and San Mateo counties — will also be providing service to the game; the schedule is available online for particular times. 
The bigger question, however, is whether Levi's Stadium is properly prepared to host the Super Bowl. According to a report from Sporting News, the site has had trouble maintaining proper field conditions since the stadium opened in 2014. "Before the 49ers ever played a single game inside the 68,500-capacity stadium, the turf had to be replaced twice in the span of just two weeks," Troy Machir wrote for Sporting News. "What was expected to be the nicest field in the NFL turned into the fairway at a municipal golf course following a hailstorm." 
Case in point: This year, Baltimore Ravens kicker Justin Tucker — one of the more accurate kickers in the league — slipped on the turf during a field goal attempt and was visibly frustrated. 
The reason that the field has had so many struggles dates back to its initial construction, and subsequent handling since, according to the report. "When the field was constructed, an error was made when laying down the support base of sand and gravel," Troy Machir wrote. "But even after the grounds crew dug up the foundation and rebuilt it, the same issues remain. Why? In short, the stadium is overused. It has hosted WrestleMania, an outdoor hockey game, a soccer match between F.C. Barcelona and Manchester United, countless concerts, and of course, 49ers' home games." 
Potential field complications aside, fans can expect an exciting matchup between the two teams coupled with a halftime performance by Coldplay and Beyoncé. Ultimately, for those hoping to make the trip to the stadium — or are just genuinely curious as to the Super Bowl's location — there are several ways to get to the game on Sunday.