Inmates Jailed in Flint Forced to Drink, Shower in Toxic Water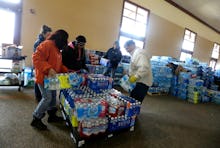 Flint, Michigan, has been in a state of emergency on a local level for about a month, but at least one group of people wouldn't know that anything is being done about the brown water: inmates. 
Even though Mayor Karen Weaver declared a state of emergency in December, followed by Gov. Rick Synder in January and President Barack Obama a few days later, inmates in the Genesee County Jail in Flint were forced to drink the water, as well as shower in it, according to a new report from Democracy Now! 
According to the report, the jail distributed bottled water to inmates after Weaver declared an emergency in December, but the bottled water lasted only five days. After the jail's sheriff said he performed a water quality test showing the water was safe to use, the jail switched back to its toxic water supply. The jail returned to bottled water about a week ago. 
"In jail we were drinking from the taps. Our food was being made from the taps," Jody Cramer, a newly released inmate who worked as a trustee in the kitchen while in the jail, told Democracy Now! "Many inmates would make complaints due to the fact that the deputies would not drink from the faucets. They all carried bottled water." 
Cramer added, "[W]e were consistently told that the water in the jail was good." 
Cramer said that though they made the switch to bottled water on Jan. 23, the water they used to prepare the food was still from the tap. 
"So, we kind of were like, 'All right. Well, we're distributing water, but what about this food that we've been eating all day—or all month or prior to this?'" Cramer told Democracy Now! 
Cramer also told Democracy Now! that he was instructed to distribute two 12-ounce bottles of water to inmates twice a day. Those clean 48 ounces of water fall far short of the National Institute of Medicine's recommendations for daily water intake for men and women — 125 ounces and 91 ounces, respectively.
"Yeah, I have to not only drink this water, but I have to brush my teeth," he said. "I drink coffee. We've been told that there's nothing wrong with washing your body or hands with this water out the tap, that it's just consuming it."
Cramer also said pregnant women in the jail drank the toxic tap water. The Centers for Disease Control and Prevention warns that lead can cause miscarriage as well as damage to a growing baby's brain, kidneys and nervous system.