Gloria Steinem Says Female Bernie Sanders Supporters Just Doing It for the Boys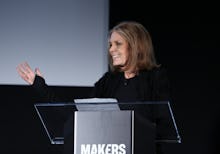 Gloria Steinem has an interesting explanation for Hillary Clinton's fledgling lead in the polls.
While on the Feb. 5 edition of HBO's Real Time with Bill Maher, the renowned feminist activist told the eponymous host that perhaps young women are simply voting and campaigning for self-declared democratic socialist and Vermont Sen. Bernie Sanders to appeal to men, reports the Hill.
When Maher asked Steinem why young women were migrating to team Sanders over rival Clinton, she responded, "I don't mean to over-generalize ... but men tend to get more conservative because they gain power as they age, and women get more radical because they lose power as they age."
Steinem, who has written editorials supporting Clinton's campaign, suggested the former secretary of state was the more radical candidate.
"So it's kind of not fair to measure most women by the standard of most men, because they're going to get more activist as they get older," she continued. "And when you're young, you're thinking, 'Where are the boys?' The boys are with Bernie."
Maher immediately countered Steinem by joking that if he had expressed that opinion, she would have slapped him, earning laughs from the audience.
While the New Republic's Elizabeth Bruenig wrote "chalking you women's politics up to their desire to meet boys actually is a profoundly sexist thing to do," feminist writer Sady Doyle offered a more charitable interpretation of what Steinem meant to say on Twitter:
On Sunday, Steinem posted an apology to Facebook but insisted her words had been "misinterpreted."
While Clinton has held a lead among older female Democrats, in the Iowa caucuses, according to the Los Angeles Times, young women voted for Sanders over Clinton by a six to one margin. Sanders has typically struck a pro-feminist stance on the issues.
"For the first time, I feel empowered to create change," Julie Frederick, a 23-year-old Sanders volunteer and New Hampshire resident, told USA Today. "This is a peaceful political revolution, and everyone's very excited to be a part of it."
Feb. 2, 2016, 3:30 p.m.: This article has been updated.