What It Takes to Make a Gender-Neutral Perfume — And Why It Matters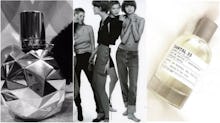 The celebrity perfume industry is a huge, bubbling business reportedly pulling in more than $1.3 billion a year. From fragrance masterminds like Britney Spears and Jennifer Lopez all the way down to the members of One Direction, crafting a scent has become a mandatory step in building a celebrity empire. 
Actress and singer Ariana Grande is the latest celebrity to create her perfume — and in classic Ariana fashion, she's using it to make a point: Her latest perfume, Frankie, is gender neutral. 
Fans got wind of the new scent in early January, when Grande's older brother Frankie Grande tweeted out a picture of the bottle. He tweeted that the fragrance was "non-gender exclusive" and made to be "worn by all," which Ariana further endorsed with a singular "yas!"
Scents that are made to be worn by both genders aren't totally new — they just used to be called unisex, like the iconic CK One back in 1994. But while CK One used the unisex angle to merely play up the brand's "raw and minimal sexuality," Grande's fragrance is clearly about breaking down gender barriers, just as so many other gender-neutral products are these days.
So what does it really mean to break down those barriers — in other words, what makes a fragrance "gender neutral?" We asked the perfumer behind Grande's fragrance, Frank Voelkl. 
Voelkl works at Firmenich, a "fragrance and flavor house," and his role is sometimes called a "nose," or an expert at creating perfume compositions that are appealing. As a nose, he can identify thousands of scents and understands how they interact with one another in a fragrance. 
Having worked in the industry for 24 years, including on Grande's previous fragrance, Ari, Grande thought he'd be a good fit to work on the project. 
What makes a perfume gender neutral? According to Voelkl, what Grande wanted from the get-go was "a fragrance a guy would also be comfortable wearing as much as a woman," he told Mic. 
That means incorporating typically male scents and female ones, striking the perfect balance. Although the idea of scents being inherently gendered is admittedly silly, according to Voelkl, there are scents that men and women tend to naturally respond to differently. 
Whether that's biological or conditioned is still up in the air; at the very least, science is learning what scents draw opposite genders to one another — theoretically because they embody hyper-masculine or hyper-feminine qualities.
"For women's fragrance, the femininity is expressed through flowers and fruits and softer notes," Voelkl said. "Men's fragrances use a bit more woody notes," as well as leather and musk.
Voelkl spent close to half a year working on a balance of notes that incorporated both, as well as certain scents that are seen as relatively neutral, including pear and moss. By combining them with notes like apricot, sandalwood and pink pepper, he struck up a balance that could theoretically be attractive for all genders. 
For the 50-year-old perfumer, who has worked on other unisex fragrances for indie brands like Le Labo, the appeal of creating gender-neutral perfume is the same appeal that draws some to gender-neutral clothing: the freeing possibility of going beyond traditional limitations.
"It allows me, as a perfumer, to go more out of traditional structures," he said, "because basically when you work on a so-called women's or men's fragrance, you have to somewhat stay within a framework that is probably more traditional."
What our scents can tell us about ourselves: Regardless of what the perfume may smell like, fragrances are largely about marketing, and they are usually marketed in a highly gendered way. Just think back to the golden age of Jennifer Lopez's Glow or Britney Spears' hugely successful Fantasy. Sure, men could have bought those scents as well; but the pink, glitzy, curvaceous bottles sent another message.
Meanwhile, Grande has turned a blind eye to that concept entirely, fully embracing the idea that this fragrance is for everyone. Just look at the posts on social media thus far: 
Surprised to see teen guys holding up those bottles? It's part of a sea change in our midst. Grande has been just one of the celebrities speaking out about gender fluidity, equality and unfair gender expectations, recently telling a fan that her MAC Viva Glam makeup line was for everyone, too.
Her young fans are with her, just as they are for other gender-neutral trends. An increasing number of fashion brands and designers have proudly ignored gender as it relates to their clothing, and many have done so by enlisting the younger generation. Just take one look at Jaden Smith skyrocketing to fame by rocking a dress and defiantly ignoring society's rules. Hey, even makeup is now fair game for all genders. 
With Grande leading this push to remove gender from what's really just a bottle of liquid, we can only expect more mainstream scents to trickle in with smells and bottles made for all. It'll be about wanting to smell like you just woke in a rose garden, or fell asleep on the beach, or just baked something delicious. Ideally, it goes back to what perfume is all about: embracing one's own identity and feeling like a scent just fits you. 
"People aren't necessarily looking for a fragrance or even a piece of clothing that makes them feel more masculine or feminine, but what stands out as unique and is comfortable to wear," Voelkl said. "I think that definitely we are in a phase that the fact that something is comfortable and they like does not necessarily need to reinforce somebody's masculinity and femininity. We are in a phase where the lines are blurred."