Trump Gets Booed at the Republican Debate Over Support for Eminent Domain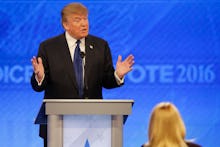 Republican presidential hopeful Donald Trump drew jeers from the audience for his forceful defense of eminent domain during the eighth GOP debate on Saturday night.
The real estate tycoon parts from many conservatives in supporting the practice, which allows private property to be seized for public purposes. Asked by a moderator at the Manchester, New Hampshire, debate to expand on his views, Trump didn't back down.
"So many people have hit me with commercials and other things about eminent domain. Eminent domain is an absolute necessity for a country, for our country," Trump said. "Without it, you wouldn't have roads. You wouldn't have hospitals. You wouldn't have anything. You wouldn't have schools. You wouldn't have bridges. You need eminent domain."
Ironically, as Trump went on to note, many of his conservative critics are also vocal supporters of the Keystone XL pipeline, which would transport oil from the tar sands of Canada to the Gulf of Mexico and would require the use of eminent domain.
Former Florida Gov. Jeb Bush pounced, bringing up the case of an "elderly woman on the strip in Atlantic City" whose property Trump wanted to seize. Bush was referring to the case of Vera Coking, who ultimately prevailed over Trump in court in 1998.
"That is not public purpose. That is downright wrong," Bush said.
After a heated back-and-forth — in which Trump jabbed that Bush "wants to be a tough guy" — Trump attempted to retake control of the conversation, only to encounter boos from the audience.
"Let me talk. Quiet. A lot of times, a lot of times —  that's all of his donors and special interests out there," Trump said, referring to the booing. "So, it's what it is. That's what it is. And by the way, let me just tell you, we needed tickets [to the debate]. You can't get them. You know who has the tickets — to the television audience? Donors, special interests, the people that are putting up the money. That's who it is. The RNC told us."
Watch the exchange below: