Super Bowl 50 2016 Live Stream: How to Watch the Panthers vs. the Broncos Online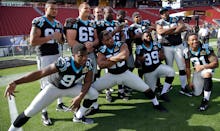 Marcio Jose Sanchez/AP
Football fanatics can choose from several options to watch the Carolina Panthers take on the Denver Broncos in Super Bowl 50 on Sunday at Levi's Stadium in Santa Clara, California.
The biggest night in football will be available for live stream using computers, smartphones or home entertainment devices: Super Bowl viewers watch online through a live stream on CBSSports.com or catch the game on home entertainment devices such as Xbox One, Apple TV, Roku or Chromecast. Note that only eligible Verizon Wireless customers will be able to live stream on their mobile devices by using the NFL Mobile App.
No hidden fees, no catch. Super Bowl 50 viewers simply have to log in and watch the two hottest teams in football go head to head.
Read more:
The game will air on CBS at 6:30 p.m. EST. CBS sportscasters Jim Nantz and Tracy Wolfson will be delivering play-by-play during the game and reporting on the sideline, respectively. Former New York Giants quarterback Phil Simms will be providing in-depth football analysis.
CBS Sports' Super Bowl 50 programming will be at 11 a.m. EST, with the film Super Bowl 50: Before They Were Pros. At noon, the NFL Film Road to the Super Bowl will air. Phil Simms All-Iron Team: Super Bowl Edition airs at 1 p.m. EST. The Super Bowl Today will air at 2 p.m. EST, with the Super Bowl on CBS Kick-off Show at 6 p.m. EST.
All eyes will be on Cam Newton, the quarterback for the Carolina Panthers, who was named Most Valuable Player on Saturday.
"I've received a lot of awards, but to be able to get this organization here, I'm really proud," the 26-year-old quarterback said, according to ESPN. "We didn't get in this position by happenstance. It took years of hard work and dedication, and now we are reaping the benefits."