Will Rihanna Puma Creepers Restock? Singer's Popular Shoe Line Flies Off the Shelves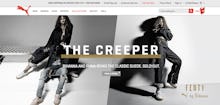 Mic/Puma
When Rihanna first revealed she would become Puma's next women's creative director and global brand ambassador in December 2014, her online fandom readied its wallets for any new gear coming from the partnership. When that new gear came in September in the form of some stylish Creepers sneakers created by RiRi and the shoe company, the entire line was sold out within minutes.
Puma tried to quench the thirst of thousands of shoe fans and "Navy" members a couple months later, announcing new colorways and an online restocking on Nov. 20. Sadly, the entire stock was sold out within just a few days. Since then, the Creepers have remained out of stock in stores and online. 
Read more:
• She Exposed a Whopping "5 Inches" of Her Legs — But That Didn't Stop the Street Harassment
• ASOS Slammed for Putting a "Slave" T-Shirt on Black Model
• Your Butt Better Be Damn Perky, Even If It Takes Levi's New "Wedgie Jeans"
So, whether Puma will decide to restock the highly-sought-after sneaks is anyone's guess. Typically, massive partnerships with sneaker companies and clothing lines only receive one stocking; if the line flies off the shelves and is an unprecedented success, as Rihanna's first set of Creepers was, the artist will usually add a few new editions in a second line released shortly after.
This all happened with Rihanna's shoe line. The only difference, however, is that Rihanna remains the women's creative director for Puma, with curated favorites on the site and a steady stream of social media photos donning Puma gear.
Another thing which sets RiRi and her collaboration with Puma apart from other similar launches is the Barbadian recording artist's passion for design. Rihanna has launched several successful fashion lines, including an entire fashion line with River Island, a sock line with the fashion forward sock brand Stance, two collections of denim jeans with Armani and won the 2014 CFDA fashion icon award.
Rihanna might be somewhat busy promoting her eighth studio album Anti and a world tour featuring rap's rising star Travis Scott. If she could fit some time in to come up with a few new stylish looks for Puma, however, there are clearly a whole lot of people who would be very appreciative.
Rihanna, answer your fans' call. Restock the Puma Creepers.