Who Is Singing the National Anthem at Super Bowl 50 and How Long Will It Take?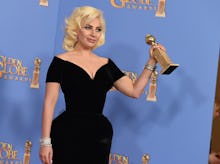 Jordan Strauss/AP
Six-time Grammy award winner Lady Gaga will be singing the national anthem at Super Bowl 50 on Sunday, a dream the singer has held ever since she was young. "I've always wanted to sing the national anthem at a major sporting event since I was a little girl," Gaga told NFL Network analyst Nate Burleson during an interview. "And for it to be the Super Bowl is just the ultimate." 
However, gamblers aren't just placing their bets on the Super Bowl. They are also placing bets on how long the 29-year-old singer will take to belt out the Star-Spangled Banner.
Read more:
The over/under odds on how long she will take to sing the national anthem have been placed at two minutes and 20 seconds by the online sports betting site Bovada, OddsShark reports. With the average length of the last 10 Super Bowl national anthems being one minute and 57 seconds, according to OddsShark, it may be a safer bet to choose the under when it comes to Lady Gaga.
"I have to live up to a song that stands the test of time," the singer told NFL Network. "I think the best way to do that is kind of forget about yourself and just focus on what it means."