Cornell University Fraternity President Charged With Sexual Assault, Attempted Rape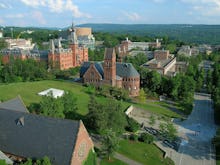 The president of a fraternity chapter at an Ivy League school has been arrested and charged with rape during an investigation into an alleged sexual assault at the frat's house on Jan. 31.
University police arrested 21-year-old Wolfgang Ballinger, head of Psi Upsilon's Chi chapter at Cornell University, on Thursday and charged him with three felony counts: first-degree attempted rape, first-degree criminal sexual assault and first-degree sex abuse, reported BuzzFeed News.
In the wake of the alleged assault, Cornell has suspended Psi Upsilon from operating at the school.
"With the assistance of the victim, police were able to identify Ballinger as the perpetrator," Cornell University police said in a statement. "At the request of the police through his attorney, Ballinger turned himself in to Cornell Police investigators Feb. 4 and was charged with first-degree attempted rape, a Class C felony; first-degree criminal sexual act, a Class B felony; and first-degree sexual abuse, a Class D felony."
Ballinger is being held for $25,000 cash bail or $50,000 bond, according to the statement.
According to the Daily Beast, a Cornell frat university website describes the Cornell branch of Psi Upsilon as a wealthy and well-connected fraternity (with its own squash court). The national headquarters of the fraternity has also suspended the Cornell branch and is cooperating with authorities, reported the Washington Post.
"I am deeply disturbed by the allegations of sexual assault involving the president of Psi Upsilon," university president Elizabeth Garrett said in a statement reproduced by BuzzFeed News. "Sexual violence has no place at Cornell, and if these allegations are substantiated, those involved will be held accountable."
The Guardian's Jessica Valenti noted in 2014 that Greek life is often linked to sexual assault on campuses.
"... numerous studies have found that men who join fraternities are three times more likely to rape, that women in sororities are 74% more likely to experience rape than other college women and that 1 in 5 women will be sexually assaulted in four years away at school," Valenti wrote.