10 Best Spotify Playlists for Just About Every Single Mood, From Heartache to Happiness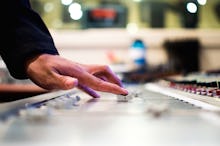 Unsplash
Music has a profound ability to impact and intensify any mood. From a heart-pumping, cardio-busting workout to a romantic, candlelight date night with bae, the right playlist ensures a harmonious marriage of what's happening and what's being heard. 
So, it might make sense to have those a few key playlists in hand for when it's time to set the ambiance of a specific setting or mood. Luckily, Spotify houses a plethora of playlists to choose from, featuring a variety of mood-altering songs to mellow out the day, boost up the workout or ease the heartache of a painful breakup.
Read more:
Check out some of the best Spotify playlists for just about any mood, below:
When it's time to finally destress after a long day.
Afternoon Acoustic
When your life — or whether you remain in school for another year — depends on whether you pass this upcoming test.
Study Time Starts Now
When you've worked all week long and it's time to finally let loose.
TGIF
When you're bored while commuting to school or work and need some anthems to sing along to.
Songs to Sing in the Car
When you're feeling like you just need a little pick-me-up to power through the day.
Mood Booster
When you think you might be falling in love.
All The Feels
When you're really happy even though you have a huge stack of paperwork to get through.
Your Favorite Coffeehouse
When you have on an outfit that's entirely new from head to toe and feel as if you just stepped out of a magazine spread. The world is your runway, baby.
DOPE: The Playlist
When the pain of a breakup makes you feel like downing an entire bottle of wine, watching an entire season of Sex & The City and crying on the phone with your mother for hours.
Life Sucks
When it's time to let go of all that stress and remember that life is absolutely beautiful even when you're single.
Feelin' Good