Missy Elliott Dropped a New Song, "Pep Rally," Just in Time for Super Bowl 50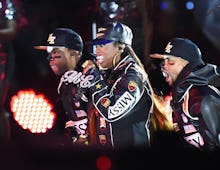 Jeff Kravitz/Getty Images
Super Bowl-appropriate news: Missy Elliott released a new single, "Pep Rally" on Sunday, the first new music we've heard from her since November's "WTF". "Pep Rally" is available for purchase on iTunes and Amazon, and to stream on Spotify. With its marching-band-on-steroids sound, it's an ideal game-day banger, as Elliott tweeted when announcing the surprise release. It's a great day for musical surprises.
Read more:
Her fans, of course, are jazzed about this "Pep Rally" gift from out of the blue.
This isn't Elliott's first surprise Super Bowl moment. In 2015, she popped up in Katy Perry's halftime show, performing a medley of "Get UR Freak On," "Work It" and "Lose Control" on stage with the pop star. This year, viewers will also see Elliott during Sunday's big game broadcast. According to Time, Amazon is using "Pep Rally" in its commercial for the Echo speaker, a Super Bowl spot in which Elliott will appear alongside Alex Baldwin and Jason Schwartzman.
Before Elliott's "WTF" ("Where They From"), a collaboration with Pharrell Williams, the artist hadn't released new music in years: Her last album, The Cookbook (2005), is now more than a decade old, while her last singles — the Timbaland-produced "9th Inning" and "Triple Threat" — came out in 2012. Two new tracks in three months isn't bad; fans can only hope that these are the beginnings of a pattern.