Watch Lady Gaga Absolutely Slay the National Anthem at the Super Bowl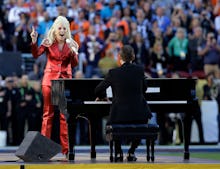 Sunday night, in front of an audience of millions, Lady Gaga slayed. 
Dressed in a sparkling red pants suit, she kicked off this year's Super Bowl 50 matchup between the Denver Broncos and the Carolina Panthers right, taking the "Star-Spangled Banner," one of U.S. culture's most challenging songs, and made it her own.
After hitting the national anthem's final high notes with an epic chest bump, Gaga joined a team of music's finest performers, who have all turned the Super Bowl's national anthem into a unique and transcendent musical moment. Whitney Houston did so in 1991, widely remembered as one of the anthem's most compelling renditions. It's one of Gaga's own favorites, she revealed in a pre-game interview as reported by Billboard.
"I have to live up to a song that stands the test of time," Gaga said. "I think the best way to do that is kind of forget about yourself and just focus on what it means. ... I'm really singing it from the heart and I'm also singing it really very true to the way that it was written, because I think that's when it sounds its most majestic."
The nation clearly felt it. Jaws dropped across Twitter, just like as they've done nearly every time Gaga has sang classics on national television. However, a select group of Twitter hilariously had no idea who they were watching.
But still, audiences were blown away.
The reactions nearly mirror those following Gaga's performance at the 2015 Oscars, when she sang numbers from the Sound of Music to lavish compliments from the 1965 film's original singer, Julie Andrews. Or those when she sang Frank Sinatra's standard "New York, New York" at a centennial birthday tribute to the jazzman.
The next stage Lady Gaga is set to grace is the 2016 Grammys, airing Feb. 15, where she will be performing a tribute to the late David Bowie. Later in February she'll sing at the Oscars, thus becoming the first artist to sing the Super Bowl, the Grammys and the Oscars all in one year. If her performance is any indication, it is going to be a very good month for Gaga.
Watch Gaga's incredible kick off rendition of the "Star-Spangled Banner" below.