Melania Trump: 5 Things to Know About Donald Trump's Designer Wife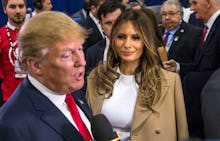 Erik Kabik Photography/ MediaPunch/AP
Melania Trump wouldn't be your typical first lady. An immigrant from Slovenia, she became a naturalized citizen after marrying billionaire real estate tycoon Donald Trump in 2005. A former model who kicked off her career in the United States in 1996, Mrs. Trump spends her time building an empire of her own while the Donald runs for the most powerful office in the world. 
Though typically pictured as the quiet and elegant better-half of the headline producing Republican candidate and reality TV star, Melania Trump is very much a successful entrepreneur in her own right, who lets her work speak for itself. 
Read more:
1. She's a naturalized citizen.
If Donald Trump, a leading frontrunner on the GOP side of the presidential race, is voted into office, she would be the second first lady in the history of the United States to not have been born within the nation, along with John Quincy Adam's wife Louisa. 
It was a move she says was brought on by her successful career as a model. "I came here for my career, and I did so well, I moved here," Melania Trump told Harper's Bazaar in January. "It never crossed my mind to stay here without papers. That is just the person you are. You follow the rules. You follow the law. Every few months you need to fly back to Europe and stamp your visa. After a few visas, I applied for a green card and got it in 2001. After the green card, I applied for citizenship. And it was a long process."
2. She has a massive QVC empire.
The potential first lady has already had the rights reserved to her first name for a widely successful jewelry line with the retail giant QVC. The line, titled Melania Timepieces & Fashion Jewelry, features diamond studded watches, decorative bracelets and "chic & cosmopolitan looks from Melania Trump."
3. Donald Trump first asked her out while he was on another date.
"He wanted my number, but he was with a date, so of course I didn't give it to him," Trump told Harper's Bazaar. "I said, 'I am not giving you my number; you give me yours, and I will call you.' I wanted to see what kind of number he would give me — if it was a business number, what is this? I'm not doing business with you." 
She says Donald Trump gave her at least three phone numbers to choose from, including his office and his personal line. The two met a few days later and began dating in New York City shortly after. The rest, of course, is history. 
4. She's been more open about her sexuality than any first lady to date.
Melania Trump would also be the first wife of a president to ever pose nude for a publication, as she did for British GQ in 2000. She also called in to the Howard Stern radio show that same year, revealing she wasn't wearing much during the time of the interview and was enjoying "incredible sex" on a daily basis with the Donald — sometimes more. 
5. She's very political — but you'll never hear about her views.
"I'm choosing not to go political in public because that is my husband's job," Melania Trump told Harper's Bazaar. "I'm very political in private life, and between me and my husband I know everything that is going on. I follow from A to Z, but I chose not to be on the campaign. I made that choice. I have my own mind. I am my own person, and I think my husband likes that about me." 
As for her thoughts on her husband's campaign? "I give him my opinions, and sometimes he takes them in, and sometimes he does not. Do I agree with him all the time? No. I think it is good for a healthy relationship. I am not a 'yes' person. No matter who you are married to, you still need to lead your life. I don't want to change him. And he doesn't want to change me."