Who Is Heidi Cruz? What to Know About Ted Cruz's Wife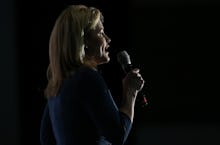 Win McNamee/Getty Images
Before 2016 presidential candidate Ted Cruz's strong showing at the Iowa caucuses Feb. 1, the Texas senator's wife, Heidi Cruz, spoke to a group of 24 students who drove to Iowa from the University of Chicago. 
"One thing I love about Ted is, because of his constitutional grounding and his very, very fine understanding of that incredible document, Ted is able to run this race genuinely on who he is as an economic, social and national security conservative," Heidi Cruz told the University of Chicago students who were denied entry into Cruz's rally due to overcrowding, according to Wired. "He will govern and is going to be able to govern exactly on what he promises to do, in a way that allows all of us to live in freedom."
Heidi Cruz has been referred to as an important factor in Cruz's success, but the 43-year-old and mother of two has quite an impressive resume of her own.
Read more:
Extensive executive and political background
Born in California, Cruz received a master's degree in business administration from Harvard University in 2000. She later worked for the George W. Bush administration in 2003, as the director for the Western Hemisphere on the National Security Council under then-National Security Adviser Condoleezza Rice. 
Currently, Cruz is a managing director at Goldman Sachs in Houston, having joined the investment firm in 2005. She has taken an unpaid leave of absence from her position during her husband's presidential campaign, according to USA Today. 
"I want to tell you, I did take a leave of absence from work," Heidi Cruz said to a crowd in Missouri in January, according to the Washington Post. "I wouldn't have given up my job and the time with my girls if I did not really believe in my heart that Ted Cruz would win this election."
Fundraising whiz
Her fundraising talents have made her a crucial piece of the campaign. 
The Cruz campaign has made over $26 million since its inception in March, according to the Washington Post. Much of that can be attributed to the fundraising abilities of Heidi Cruz, the Post wrote.
A lot of her time is spent making donor calls; she called 600 donors in the second quarter, she told CNN. Cruz averages 30 calls per day — "fewer when she has a big day on the trail," according to CNN.
She's all in
Heidi Cruz met her future husband while working for the George W. Bush campaign in January 2000. "I found Ted very compelling," Cruz told ABC News. "He is a warm person, he's friendly, he is someone who's clearly smart, and an incredibly sharp mind, very articulate, but he's also a guy that likes to have fun."
She has been a support system for Ted, investing all of the couple's savings into his Senate campaign in 2012. "Sweetheart, I'd like us to liquidate our entire net worth, liquid net worth, and put it into the campaign," Cruz told the New York Times in a 2013 interview.
"What astonished me, then and now, was Heidi within 60 seconds said, 'Absolutely,' with no hesitation." The couple put $1.2 million into the campaign, which Cruz later won.
"She's a professional, independent-thinking woman who has had a very successful career. She's nothing but an asset for Sen. Cruz and his presidential ambition," Mark Jones, head of the department of political science at Rice University in Houston, told USA Today.
Passion for entrepreneurship
If her husband becomes the next president of the United States, Heidi Cruz is planning to help children with entrepreneurship, as first lady. Like first lady Michelle Obama's Let's Move initiative on childhood obesity, Cruz could create an initiative on entrepreneurship for kids.
"I just want other kids to have the opportunity to see the value that they can add in many different ways, whether it be a hobby, a talent," Cruz told ABC News. "And it's all in the concept of entrepreneurship."