Lady Gaga Channels Hillary Clinton for the Super Bowl, and the Internet Loves It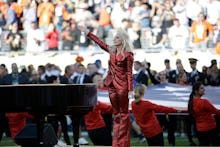 If Hillary Clinton was looking for a fresh wardrobe update for New Hampshire primary on Tuesday, Lady Gaga just gave her one. 
When the singer took to the field for Super Bowl 50 on Sunday to sing the national anthem, she was virtually unrecognizable to viewers, in part because of her shockingly conservative outfit: a pantsuit. 
Sure, it was red glitter, and it was paired with American flag heels that can only stereotypically be described as "stripper heels." But it was a traditional pantsuit nonetheless, with wide lapels on the jacket and retro flared pants. 
It was so traditional, in fact, that Twitter couldn't help but invoke Hillary Clinton instantly.
Some even took it to mean an endorsement:
Which, if we're being honest, isn't a bad comparison. Clinton is far from the only woman to wear pants suits, but she's certainly the most famous one — and Gaga's suit was a classic Hillary style, monochromatic and all.
What was very un-Hillary, however, was the other style features Twitter couldn't help but geek out about: Gaga's matching red glitter eyeshadow, applied by expert makeup artist Sarah Nicole Tanno.
We doubt Clinton will be seen in red eyeshadow anytime soon (or anyone else, for that matter — it's one of the toughest colors to pull off). But the pantsuit is another matter.
She needn't look furiously. Hillz, we got you: It's Gucci.