Who Is Mario Woods? The Story Behind the Name on Beyoncé's Dancers' Sign at the Super Bowl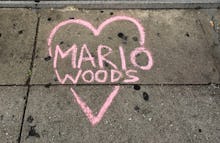 Janie Har/AP
Super Bowl 50's halftime show was as visually powerful as it was political. During what's come to be one of the most-watched television events in the U.S. in recent years — the annual Super Bowl — Beyoncé performed a live rendition of "Formation," a track the mega R&B star sneak-released on Saturday, one day before Sunday's kickoff.
During Sunday's event, Beyoncé's backup dancers held a sign which read "Justice for Mario Woods," a 26-year-old African-American who was fatally shot by police in San Francisco on Dec. 2. Woods was reportedly a part of the Oakdale Mob, and was incarcerated more than once before his death, yet peers remember the victim as a "total sweetheart" who "always liked people to be happy," according to San Francisco Weekly. 
Read more:
Woods' killing sparked outrage after video footage surfaced showing police officers cornering the victim and firing multiple shots, after Woods reportedly stabbed a stranger. In terms of timing, the incident added to a string of brutal acts of violence against African-Americans at the hands of law enforcement that's erupted across the country in recent years.
"I know that Ferguson is in Missouri and we're on the Bay, but in terms of attitudes, practices and the treatment of the black community, Ferguson is in San Francisco," said Amos Brown, president of San Francisco's NAACP chapter, according to Time. "It happened because of a culture of neglect when it comes to black folks. That's what's coming home to haunt us."
Following Woods' death the Department of Justice launched what it calls a "comprehensive review" into San Francisco's police department, though important to note is that the review is not a civil rights investigation, according to the San Francisco Examiner. 
Though the review is still ongoing, Sunday's Super Bowl showing recast a spotlight on Woods' killing and served as support for what's at the core of the Black Lives Matter movement. And, in tying a connecting thread back to the Black Panther Party for Self Defense, Beyoncé's performance served as a crystal clear call for justice by signaling early civil rights crusades. 
The Black Panther Party for Self Defense was a revolutionary group, whose original mission was to combat police brutality, that was born out of the civil rights movement and began in 1966 in Oakland, California. Eventually, as the group erected chapters across the country, the Black Panther Party evolved into a Marxist organization that fought for a number of causes for American-American citizens, including exemption from the draft and that monetary compensation be awarded to black Americans as payment for a long history of exploitation. 
Beyoncé's latest track is a trap-infused anthem that's thematically in line with fundamentals at the core of the Black Lives Matter movement, and on Sunday, the artist performed a live rendition of the single on the field at Levi's Stadium in Santa Clara, California. Supported by a troupe of backup dancers, Beyoncé and her costumed performers' paid homage to the Black Panther Party for Self Defense.
Feb. 8, 2016, 10:40 a.m. Eastern: This story has been updated.