What Is "Hey Jude" About? The Sweet Meaning Behind the Beatles' Uplifting Ballad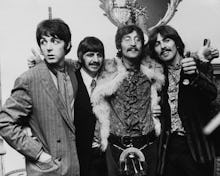 Keystone-France/Getty Images
"Hey Jude," one of the Beatles' most famous songs, is an uplifting ballad that's inspired the masses for decades. The song, written by Paul McCartney and also credited to John Lennon for some contributions, has been long-used as a generally encouraging message, and it was specifically inspired as an empathetic message to Lennon's son during a tough time for him.
McCartney originally wrote a rough version of the song, called "Hey Jules," to cheer up Lennon's then five-year old son, Julian, during his parents' divorce, and it eventually became "Hey Jude."
Read more:
"I was going out in my car, just vaguely singing this song," McCartney told Rolling Stone, "and it was like, 'Hey, Jules...' And then I just thought a better name was Jude. A bit more country and western for me." He said the song's intro was "a hopeful message for Julian: 'Come on, man, your parents got divorced. I know you're not happy, but you'll be OK.'"
McCartney wrote "Hey Jude" at a tumultuous time in his own life as well. The song was written while the band was doing studio sessions for the White Album, according to Rolling Stone, when the band members were notoriously feuding. At the same time, he and his then girlfriend, actress Jane Asher, were splitting up.
Lennon apparently thought the song was written to him as a blessing on his relationship with then new girlfriend Yoko Ono even though she was straining his and McCartney's relationship. "I always heard it as a song to me," Lennon said in 1980, according to Rolling Stone. "Yoko's just come into the picture. He's saying, 'Hey, Jude — hey, John.' Subconsciously he was saying, 'Go ahead, leave me.'"
The final product of "Hey Jude" was credited to Lennon as well after he made a few contributions, including keeping the fifth verse line, "The movement you need is on your shoulder," which was originally a placeholder line.