Neck Contouring Takes Instagram Beauty Trends (and Our Insecurities) One Step Too Far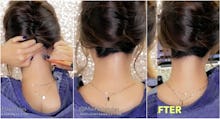 Sad though it is, it's hard to remember a time before contouring — a time before that multistep, multilayered method of makeup application took over our Instagram feeds, if not our actual makeup bags, to remind us how easy it can be to mold your face into the exact shape you'd like.
While using makeup to change up your look isn't inherently bad, there's a fine line between getting glammed up and trying to improve every little line and curve of your face... or your neck.
Yes, neck contouring is here, thanks to a mini video tutorial posted by Makeup Wearable Hairstyles on Instagram that promises "slimmer, graceful-looking updos!"
The video made the rounds over the weekend after being highlighted by Huda Beauty, aka uber popular beauty blogger Huda Kattan. Not all of her commenters were on board with the trend. "Why would u wanna contour ur neck..." was the general sentiment, with a few "WTF is this shit" thrown in for good measure.
Others chimed in wondering why you would do the back of your neck, when typically the front of the neck is a more obvious site of body insecurities. As writer Nora Ephron famously informed us, so many women feel bad about their necks — but usually the front. 
Facial contouring has inevitably reminded so many women that their faces could be a bit more perfect — their noses more narrow, their cheekbones higher, their chin more defined. As Mic's Theresa Avila wrote about her own contouring experience, "I succeeded in literally painting myself a better face. But in the process, I'd also obsessed over trying to perfect every flaw I could find — and could feel the weight of them under the layers of makeup."
Indeed, most beauty tutorials out there for neck contouring focus on the front of the neck and include the jaw and collarbones, spots so many women already fixate on. Now back-of-the-neck contouring informs us that perhaps the backs of our necks could use to look just a tad slimmer when we attempt updos and top knots. 
As one commenter said underneath Huda Beauty's Instagram post, "What the hell, might as well contour our bingo arms as well..."
Be careful what beauty tutorials you wish for.
h/t Hello Giggles