Is Drake Canadian? And Other Facts You Should Know About the Self-Declared "6 God"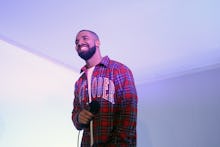 Cole Burston/Getty Images
In a word, yes, Canada does indeed lay claim to powerhouse recording artist and dance routine luminary Drake. Yet Drake's Toronto, Ontario origin is just one kernel of truth about the recording artist, and fans of his work are often curious to learn more about the man behind the music. Here are a few fast facts you may not have known about Toronto's favorite son.  
Read more:
A man of many talents: Drake, who was born Aubrey Drake Graham, has appeared on screen in a number of television series, short films and videos, and even lent his signature voice to the character of Ethan in 2012's Ice Age: Continental Drift. He's widely known for appearing in Degrassi: The Next Generation from 2001 to 2009 as Jimmy Brooks.
Music making's in Drake's DNA: The singer comes from a family of musicians. His father was a percussionist who worked with Jerry Lee Lewis, the American all-star rock musician who was sometimes known as "The Killer" and who Rolling Stone billed as a rock legend. Drake's uncle, Larry Graham, Jr. is a well-known bassist who played with the psychedelic funk and soul act Sly & the Family Stone. 
A kid at heart: According to the Richest, Drake has an affinity for residential pools and once dropped $7.7 million for an estate that included a pool with an 80-foot water slide.   
Sometimes, Drake has doubts: In a 2013 interview with XXL, Drake opened up about his recording process and the back-and-forth feelings he grapples with when it comes to feeling confident with a finished product.
"The confidence in the records, I mean, it takes me a year, a year and a half to make an album, so those are emotions spanning over [that time]," Drake said in the interview with XXL. "There might have been nights that I was supremely confident due to events that occurred that day or that week, and those emotions come across and then there'll be emotions not so much. ... I remember being like, 'Did we just make the biggest mistake in life?' I'm doing Peter, Bjorn and John songs over. I did a Lykke Li song over. It was like, 'What did we just do? Did we shift the needle on the culture, or did we just sort of potentially bomb any hope of being respected as a real rapper?'"
A man with a plan: It's been reported that Drake set a goal for himself to make $25 million by the time he turned 25. The recording artist blew past that benchmark and now aims to bank $250 million before he turns 29.
His emotions run deep: Rumors that Drake has dated heavyweight Barbadian recording artist Rihanna are widely reported, and according to the artist he's no stranger to infatuation (speaking to MTV, he once confessed his crush on Nicki Minaj, according to She Knows). Yet it may be the artist has never been in love. 
"I had lunch the other day with someone I extremely look up to," Drake once said in an interview with GQ. "Okay — I had lunch with Will Smith, and listening to him talk, it made me think I don't know what love is. He said something profound. He said love is when you become one and you need that person. It's not about wanting anymore, you need that person. Hearing that, I don't know if I've ever felt that way."
And just because: That one time Drake poured his drink into his Grammy Award and used it as a cup.