Is Marco Rubio Doomed? What His Awful GOP Debate Performance Actually Means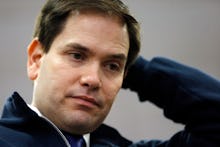 Marco Rubio had observers rubbernecking at his weekend debate performance like drivers gawking at a five-car pileup.
His robotic repetition of one line of attack on President Barack Obama — he deployed it at least four times, nearly verbatim — earned him a brutal smackdown from foe Chris Christie and sent pundits twittering that he'd choked in the final primetime showdown before New Hampshire opens its primary polls on Tuesday.
Now that the debate dust has settled, campaign watchers have divergent views on whether, or how badly, Rubio may have wounded himself.
How bad was it? Lincoln Mitchell, a research scholar at Columbia University's Saltzman Institute, told Mic he thinks Rubio did himself no favors during the Saturday night fights.
"First, while being called a slick candidate is not always terrible, actually repeating the same line or four times is a strange mistake," Mitchell said Monday. "Rubio has sought to position himself as the policy-savvy guy in this race, but those kind of shallow answers undermine that perception."
"Any GOP insider who imagines Rubio debating Clinton, if she is the nominee, must have shuddered after seeing how badly he handled Christie's questions," Mitchell said.
On the flip side, Larry Sabato, director of the Center for Politics at the University of Virginia, told Mic he doesn't think Rubio's bobble will cause enduring harm, though he'll feel the short-term sting.
"This is a classic example of a debate gaffe that would have been almost undetected by the audience had the other candidates and post-debate commentary not pointed it out," Sabato said. "It's received so much coverage that Rubio's rise may well have been arrested, at least temporarily, [but] let's see what the New Hampshire vote tells us."
"This isn't exactly a scandal," Sabato continued. "Candidates are repetitive because that's what they're taught to do. Rubio can fix this with new lines and more spontaneity."
Rubio came into the St. Anselm College debate after a close third-place finish behind national frontrunner Donald Trump in the Iowa caucuses, which Texas Sen. Ted Cruz carried thanks to a well-organized ground game and an all-out play for evangelical voters (as well as, his critics say, a shameless effort to trick Iowans into thinking Ben Carson was calling it quits).
The Florida senator continues to run a distant second to Trump in a RealClearPolitics average of New Hampshire polls, several of which were conducted in a timeframe that included Saturday's debate.
His play is to silver medal in the Granite State before storming to a win in South Carolina's Feb. 20 contest. The GOP candidates will debate again Saturday before the vote.
Under pressure: That means the pressure is on, and Jeanne Zaino, who teaches politics and elections at New York University and Iona College, said the last debate showed Rubio's feeling the effects of being targeted by his rivals.
"Rubio is a good debater generally, but this was his first time in the firing line and he did seem a bit rattled at points, especially when Christie took him to task," she told Mic. "The narrative [that] he is an empty suit, too inexperienced and not ready for primetime may hurt him in the long run. The argument certainly isn't a surprise, and he should have been more prepared to meet it head on." 
"That said, voters in New Hampshire are going to be thinking about electability, and it is well known Rubio is one of the primary people — if not the main person — the Democrats would rather not run against," Zaino said. "Moreover, repetition of a message in politics may be annoying to people in the media and others paying such close attention [in] that they hear it over and over. Some voters, however, may just be tuning in."
Justin Vaughn, an expert on presidential rhetoric and politicians' social media image-crafting who teaches at Boise State University, told Mic he doesn't think the debate was a death blow to Rubio, but also said the Floridian will have to work to regain ground.
"The small percentage of the country made up by pundits, political junkies and live-tweeters may see the debate as the game-changer that the Christie camp now says it is, but they aren't terribly representative of most Americans," Vaughn said. "One actual upside to Christie's attack on Rubio as 'scripted' is that it also got a lot more attention paid to the argument Rubio has been trying to make."
Yesterday's news? For all that Rubio's rivals are hot to throw a beating on him for his droid-like debate turn, the always-fickle nature of politics — and the commentary about it — could end up a big blessing in the final push to Super Tuesday. A brilliant late-game speech or a horrific gaffe by a high-profile rival, plus solid planning to get out the vote, could tilt the odds in his favor.
"All Rubio needs," Vaughn said, "is a good New Hampshire performance or a high-profile event or endorsement for the chattering classes to shift their narrative once again."