This Video Of A Mom Struggling to Clothe 4 Babies at Once Is Oddly Hypnotizing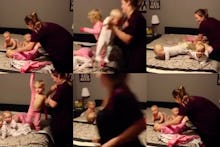 As if you needed yet another reason to be grateful for being childfree 'n lovin' it, the latest video to go super viral on the internet features a "super mom" taking on the daunting task of clothing her four babies in one sitting.
The video is nothing more than sped-up footage of a mom clothing her offspring, flanked by the inspiring messages "love is all you need" and "follow your heart." Yet it has managed to mesmerize more than 46 million people (and counting) on Facebook!
Looks like fun!
The mom, who we assume drinks an entire case of 5-Hour Energy per day, is Corrie-Lynn Whyte of Ontario, Canada. Over at her blog, she writes that she and her partner Dan Gibson have four kids — "Emily (the older sister) and triplets Jackson, Olivia and Levi, otherwise known as #thebabygang."
In a message to Mic, Gibson said the couple had been planning the video for some time. "We just had to wait until the babies were mobile," he said.   
After posting the video to the Baby Gang's Facebook timeline last Thursday, it quickly racked up thousands of comments. "It amazes us how much happiness and joy [the clip has brought] to people," Gibson told Mic. 
Most of the commenters commend Whyte for the way she so expertly wrangles such a wiggly bunch of rugrats.
"You deserve a medal, Corrie-Lynn," wrote one.
Others viewing the video took it as further evidence for their "this is why I don't want children, like, ever" files.
"Omg I couldn't handle this," wrote one Facebook user. "This fixed my baby fever!" Another wrote, "I don't like babies and never have," lol. Others were all like, "Haaaave ya heard of a crib?"
However the video makes you feel, though, it certainly makes one thing clear: babies suck at following directions and sitting still, and generally they make life more difficult. This is vital information for anyone considering having one (or, in Whyte's case, four).
Watch the full video below:
h/t BuzzFeed