Who Killed Biggie Smalls? What the FBI Files on the Murder Have Revealed About the Case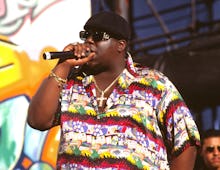 Chris Walter/Getty Images
It's been almost 20 years since rapper Biggie Smalls, whose real name was Christopher Wallace, was shot dead in Los Angeles after the Soul Train Music Awards on March 9, 1997, and still, questions remain over who killed the iconic rapper. Many theories speculate that the shooting was in retaliation for the death of rapper Tupac Shakur, who had died the year prior in a similar shooting incident in Las Vegas. 
According to Los Angeles Police Department Investigator Greg Kading, who will feature in a forthcoming Netflix documentary regarding the murders, titled Murder Rap: Inside the Biggie and Tupac Murders, this is in fact the case: They were simply the victims of retaliation between the two rival gangs. However, while the documentary is in some respects still speculation, FBI files released in 2011, coupled with an autopsy report, provided the best evidence for what happened to Biggie — and most importantly, why it happened. 
Read more:
While a lot of the content in the FBI files were redacted before their public release, there was enough from the investigation to learn that the agency had tried to connect the Biggie murder with Tupac's. Most notably, the FBI learned that several of the officers on duty at the event Biggie attended were also employed as security officers by Death Row Records — Tupac's label — which was also a violation of LAPD policy, according to E! Online. 
"Tupac's name is frequently invoked, while the late rapper's own slaying, criminal history and ties to unsavory behavior meticulously chronicled, as well as every instance, no matter how minute or fatal, of feuding between the two factions," Gina Serpe wrote for E! Online. "It appears as though they were successful in locating people who were, for whatever reason, present at both shootings."
Additionally, Biggie was shot with what turned out to be rare ammunition — called Gecko 9mm — that was only manufactured in Germany. According to E! Online, in America, there are only two distributors of the bullets, one of which is in California. 
An autopsy report regarding Biggie's death was obtained by TMZ the following year, and with it, graphic and detailed information on Notorious B.I.G.'s murder. Though he was hit by four bullets, three of them weren't fatal. Rather, one of the shots, through his left hip, decimated several of his vital organs. He was officially pronounced dead at 1:15 a.m. the night of the shooting.  
Ultimately, though, the investigation did not lead to any suspects, and the murder remains unsolved. Of course, like the majority of cold cases, the likelihood of the murder being solved so many years later is low. However, Biggie's impact on the industry is still felt today, and those who know him best believe he'd willingly collaborate with some of the top present-day talents. 
"I think Kanye — I think [Biggie] would've liked his determination because one thing I know about Kanye is when he wants something he will get on your nerves," rapper Lil' Kim said, in an interview on MTV's "RapFix Live." 
Check out the trailer for the documentary Murder Rap below: