Rob Lowe Said Cam Newton Set a Bad Example for Kids — But Twitter Never Forgets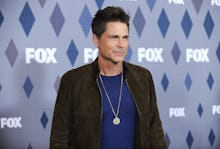 On Sunday, the Carolina Panthers lost Super Bowl 50 24-10 to the Denver Broncos, a particularly embarrassing night for Panthers quarterback Cam Newton, who fumbled the ball twice and failed to make inroads against an ironclad Broncos defense.
After Newton walked out of a post-Super Bowl presser after offering mostly one- and two-word replies to just a handful of questions, actor Rob Lowe added a little more insult to injury. He slammed the quarterback on Twitter for his perceived lack of maturity — and for being a bad example to children.
"So gracious! So classy! So humble! What an example to kids! Just like Peyton," the actor wrote on Twitter.
An example to kids, eh? Perhaps Lowe should have taken a few more beats before tweeting because his own record is far from squeaky clean. The actor was infamously embroiled in a scandal in the 1980s when a sex tape of Lowe with two women, one of whom was 16 years old at the time, was leaked.
It basically went on and on like this.
Lowe's partner was above the age of consent at the time in Georgia, where the tape was filmed, but it was illegal to film the sexual encounter. Lowe, however, never faced criminal charges.
Twitter users were probably touchy about Lowe's tweet because the Panthers quarterback has repeatedly been called a "thug" and had his behavior criticized by NFL fans and commentators.
"Newton has been a lightning rod for criticism for much of his career," an ESPN columnist wrote. "He was called immature and moody during his first couple of NFL seasons because he sometimes sat alone on the sideline with a towel over his head when the team was losing. He's been questioned for a lack of leadership. He's been questioned for his dabbin' and dancing after scoring touchdowns, for taking photos of teammates at the end of a blowout win."
As the Daily Beast's Marlow Stern points out, when in 2013 New England Patriots quarterback Tom Brady stormed out of a press conference, "the sports-loving press and public barely lifted a Twitter finger."
"What Newton's recent success has exposed is an inherent racial issue with the portrayal of black athletes in the NFL by media and fans, which is amplified even more by recent changes in the political and social spectrum," Mic's Miles Surrey wrote last month.