Who Won the Super Bowl 50 Coin Toss?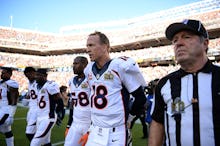 Aaron Ontiveroz/Getty Images
For the biggest sporting event in America, the Super Bowl, there are a plethora of bets to choose from. This can range from a straightforward bet on who would win the game — in this case, Carolina or Denver — to a wide range of quirky prop bets. One of the most popular prop bets, due to its simplicity, is determining the winner of the coin toss and whether it was heads or tails, since the odds are a 50/50 proposition. 
Read more:
This year, the winner of the coin toss was the Carolina Panthers, who called tails. However, it didn't prove to be helpful for the Panthers, who struggled all night against a stern Broncos defense, which only allowed 10 points and forced four Carolina turnovers in a 24-10 win. It exemplified what worked for the Broncos all year — a defense that was top-ranked in several statistical categories and could grind out close games. 
The Super Bowl win could also be a fairytale ending for one of the NFL's most noteworthy quarterbacks, Peyton Manning. The 39-year-old future Hall-of-Famer did not say whether he would retire after the game, however, he did make previous suggestions that this could be his "last rodeo." In any case, it was a great team win, led by the defense, which allows the Vince Lombardi Trophy to go to the Mile High City for the first time in 17 years. 
Check out the highlights from Super Bowl 50 below: