Is Fetty Wap Single? Here's Who Inspired Chart-Topper "Trap Queen"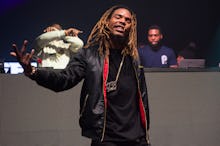 Scott Roth/AP
Rapper Fetty Wap is reportedly currently involved with several women who fight over him on social media, but none of them were the inspiration for his first hit single "Trap Queen" — Fetty wrote the catchy rap about his ex-girlfriend and the line "hey, wassup, hello," is an actual line he used when he met her. 
"I first met her at her job, and the way that I introduced myself, she didn't like it," he told Complex in an August interview. "I didn't really do it in the most respectful way. I was like, 'What do you want me to say? Do you want me to say, "Hey, what's up, hello" to you? Does that sound better?' The next day I went back to her job, and she was my trap queen from then on." It's a true modern-day fairytale. 
Read more:
Though various women's recent Instagram posts about him suggest he's playing the field pretty hard, based on what he told Complex, none of them compare to his Trap Queen, whom he said he still supports financially. "I don't think I'll ever meet anybody like my ex ever again," he said. "She's doing good now. She's in school. She's doing what she has to do. With the money that we made — and the money that I'm making now and everything that's going on for me — it's only right that I help her. Even though we're not together, I still make sure that she's good."
That doesn't mean he's not out there getting his, though. Alexis Sky, Fetty Wap's reported on-again-off-again girl, posted a bedroom mirror picture to Instagram that showed the rapper in her bed in the background. "Don't mind my bed lol I looked to cute I had to take a pic," she captioned the controversial picture, which essentially translates to, "This picture has nothing to do with how I look and everything to do with Fetty in my bed."
Masika Kalysha, another of Fetty's alleged girls, threw shade at Sky's Instagram with a meme about Fetty's many women. "This was comical," she captioned the post. "I don't want him y'all can have him back. Bitches really be out here playing musical chairs dick with a nigga that's playin duck duck goose with a group of bitches that know about each other. #IsItMyTurnYet #CanIPostYouOnMyIG #MyWeekWithBae #SharingIsCaring #SisterWives #BuyMeWhatYouBoughtHer #SeeYouInAMonthBae."