Calls For Beyoncé Boycott After Video Release Has Left Bey Fans Steaming Mad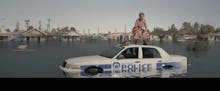 Beyoncé is under fire for her latest single and music video, "Formation," with which she surprised fans on Saturday and performed Sunday night at Super Bowl 50. The music features some biting lyrics, with motifs that draw on the spate of recent violence between mostly white police officers and young black men. 
Read more: The Secret Meaning Behind Coldplay, Bruno Mars and Beyoncé's Halftime Performance 
"I twirl on my haters," she says. "Albino alligators."
Uploaded to YouTube Saturday, the video showed the singer performing atop a sinking New Orleans Police car. In another scene, a young black child in a hoodie gets a line of police in riot gear to put their hands up, before the camera pans to a wall with graffiti that reads "stop shooting us." 
The backlash honed in on the negative portrayal of police, with some saying it was inappropriate for the international megastar to inject herself into such a controversial social issue and in such a partisan way.  
But detractors should have known the sting of the BeyHive, which swarmed Twitter to drown out the criticism and the call for a halftime show boycott.
Watch the full video here: