Lit Gymnast Hits the Quan, Dab and Whip in Likely Greatest Floor Routine of All Time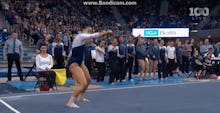 The often-stodgy world of competitive gymnastics got a much needed dose of fire emojis this weekend when Sophina DeJesus, an athlete from the University of California, Los Angeles, performed what may go down as the greatest floor routine of all time.
The Temecula, California, native scored a 9.925 out of 10.000 for her efforts against Utah during a meet in LA on Saturday.
But DeJesus' score is immaterial for our purposes, as is whether her team won or lost (they won). 
What matters is that sometime between 1 p.m. and 3 p.m. on Saturday, T-Wayne's "Nasty Freestyle" took over the loudspeakers at Pauley Pavilion and turned a crowd of glitter-drenched, leotard-clad gymnasts and unsuspecting spectators into the turnt-est party Westwood has seen all year.
DeJesus managed to incorporate the Quan, Dab and the Whip/Nae Nae — three of the country's most recognizable Southern-rooted hip-hop dances — into a two-and-a-half minute routine that also included tumbles, backflips and immaculately stuck landings.
This, America, is art:
In recent years, women's gymnastics in the U.S. has seen an influx of hyper-talented black and brown athletes, including 2012 Olympic gold medalist Gabby Douglas, Simone Biles and Lloimincia Hall, all of whom bring a necessary dash of color to a sport where black and Latina competitors remain all too rare.
With Hall and DeJesus in particular, that influx has meant the incorporation of aesthetic and cultural markers that hadn't been popular in gymnastics before — especially hip-hop. 
Why is this important? By opening up the means of expression to a greater variety of influences, these athletes have shown the sport is more inclusive than it looks on its surface. And as one can see from the audience's reaction, there's only one thing the people want: more.
Give the people what they want, Sophina.
h/t For Harriet